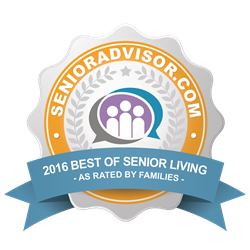 Austin, Texas (PRWEB) April 19, 2016
SeniorAdvisor.com is the largest online review directory of over 100,000 senior living and home care providers in the United States and Canada. Only the top ten percent are eligible to win the annual 2016 Best of Awards. Winners are recognized not by the website itself but by the seniors and family members themselves, truly honoring recipients with the appreciation and recognition of those who matter most - the consumers.
MBK Senior Living is a top provider of senior care. The company offers its services in several markets including Arizona, California, Colorado, Utah, and Washington.
Each MBK community is located in a desirable location. Their communities are built with accessibility in mind. The goal is for residents to easily visit local attractions including shopping, dining, and culture. Of course, quick access to area medical facilities is also important.
MBK Senior Living is focused on the individual. Staff gets to know each resident individually to provide the best care possible. This care touches on more than just medical care. It extends to enriching the life of each resident. The goal is overall emotional and mental wellbeing.
Integrity, dignity, and compassion are at the center of the MBK experience. No matter what program you choose, you can be sure the resident will be treated with respect.
The most common programs available from MBK Senior Living include independent living, assisted living, and memory care. They seek to expand their services greatly in the near future.
MBK Senior Living has maintained an outstanding online reputation for several years, and regularly receives highly positive reviews from their families like the ones below from some of their winning communities:
"I was able to move my father into Palisades at Broadmoor Park on my tight schedule. The staff is exceptional. The facility is not too big to get lost in and has a beautiful setting. Pricing was in a workable range for our budget. Somehow I missed this gem during my search last summer but I'm grateful I was able to find it this fall." - Family member of resident
"The overall atmosphere of Raincross at Riverside is extremely friendly. The residents are happy and the activities they participate in and that are available are excellent. We have observed all of the people who live there compared to other places and the whole atmosphere was a lot more friendly and joyful and happy. The levels of care are all well planned out and executed. Their communication is perfect ,we can contact them anytime and ask questions."
"Extremely helpful, knowledgeable, friendly, approachable staff. Bright, clean, inviting environment. Many different activities to take part in as well as trips weekly if so desire. Residents that we met all seem to be VERY happy there. Would definitely recommend Fremont Hills to my friends looking for a place for their loved ones!!!" - Visitor
"To say the staff was exceptional during my mothers time at the Charleston would be an understatement. The staff became like family. They cared for her like she was a dear relative and friend. She was not only cared for but she was loved." - Daughter of resident
"I found them to be very welcoming when I first went in to visit the facility. They were more than happy to sit down and listen to my needs and determine if they were a good match for my loved one. I really like the way Seven Lakes Memory Care is set-up in small communities. I am very happy having my father there." - Family member of resident
"We recently signed up for a "snowbird" stay of several months, anticipating that this will be our home once we are finished downsizing. This is a truly wonderful place. The main areas and shared areas are completely renovated into a functional and very inviting space. The grounds are beautiful throughout. Friendly residents are all around." - Residents of The Country Club of La Cholla
"Living at Tuscany at McCormick Ranch is a unique experience. There is a warm comradeship which pervades the atmosphere. I feel truly blessed to have found a home here. The atmosphere is fair, friendly, and challenging, as we have many activities to engage our interests and assure our welfare. The accommodations and food are excellent. Living among 80 seniors would be daunting if it were not for a definite harmony which we all feel, right from the start." - Resident
"Families are increasingly looking to online reviews to find out who truly delivers great care for our seniors, not just who claims to deliver great care," said Eric Seifert, President of SeniorAdvisor.com. "Our SeniorAdvisor.com Awards program is all about celebrating the exceptional people who do just that. We're honored to spread the word about these organizations whom families can entrust with the care of their senior loved ones."
To qualify for inclusion in the Best of 2016 Awards, providers must have maintained an average overall rating of at least 4.5 stars while receiving three or more new reviews in 2015. Additional details and a complete list of award winners can be found on SeniorAdvisor.com. To see the full list of award winners, please visit https://www.senioradvisor.com/awards/best-assisted-living
About SeniorAdvisor.com LLC
SeniorAdvisor.com is the largest consumer ratings and reviews site for senior living communities and home care providers across the United States and Canada. The innovative website provides easy access to the information families need when making a senior care decision, and features trusted reviews and advice from local residents and their loved ones. For more information, please visit http://www.SeniorAdvisor.com or call (866) 592-8119.