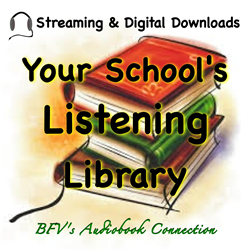 The BFV Listening Library is a new way for school librarians and media specialists to support teachers and students with the educational demands of their busy schedule!
Evergreen, Colorado (PRWEB) March 31, 2016
Just in time to subscribe before summer vacation, Brook Forest Voices has created Your School's Listening Library via their Audiobook Connection, a service designed to allow schools a means to offer streamable and digital downloadable audiobooks with a minimal investment. The service will be on-line August 15, 2016.
The BFV Audiobook Connection for School Libraries was developed to directly satisfy school library concerns: inventory investment, shelf space, books available in multiple formats and access to literature matching the school's curriculum.
BFV resolved these issues by giving school libraries the opportunity to subscribe to the new listening service at a very affordable subscription fee. School librarians may choose from either the standard BFV widget design or use a specially designed clickable widget utilizing the school's logo, which is then placed on the school's library website.
This unique solution allows the school library to offer the growing BFV Audiobook Catalog of fiction, nonfiction, children's literature and classic titles without inventory investment and without sacrificing valuable shelf space. It also gives students and teachers the ability to stream audio in the library or stream/download content from the comfort of their home, car and more.
"School librarians are always looking for new ways to support teachers and students with minimal investment. We think the BFV Audiobook Connection for school libraries offers exactly that," stated Diana Andrade, former teacher and now publisher at BFV.
About Brook Forest Voices: a complete audio production, publishing, and distribution company located just west of Denver in Evergreen, CO, specializing in audiobooks and audio for businesses. If you would like to know more about BFV's Audiobook Connection for School Libraries, please visit http://www.brookforestvoices.com or contact Jaime Andrade, BFV Business Manager at 303-670-4145.