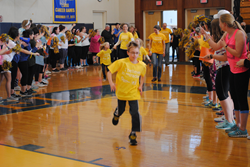 Emmanuel College is improving the lives of countless kids through its tireless and ambitious support.
Boston, Massachusetts (PRWEB) April 01, 2016
After a year of planning and fundraising, the 2016 Emmanuel College Dance Marathon (ECDM) raised $120,609.97 for Boston Children's Hospital. Now in its 5th year, this year's event raised more money than in any of its previous years and shattered the ambitious $100,000 goal set for the 2016 event. ECDM culminated with a 13-hour celebration involving 314 participants in the Jean Yawkey Center Gymnasium on Emmanuel's Fenway campus from Saturday, March 19 until Sunday, March 20.
ECDM has become one of the most anticipated events held at Emmanuel throughout the year and the largest student-run philanthropic initiative. It raises more money than any other dance marathon in Boston.
"I am so proud of our students and staff who have once again exemplified Emmanuel's mission and values through their compassionate service," said Sr. Janet Eisner, president of Emmanuel College. "ECDM is a wonderful example of the impact the Emmanuel community makes by inspiring one another to contribute to the lives of others."
Dance Marathon is a nationwide movement to raise money for Children's Miracle Network Hospitals. The program is entirely student run and commits 100% of donations to helping local children's hospitals. Overall, Dance Marathons at more than 350 high schools and colleges across the country have helped to raise more than $132,506,905 since beginning in 1991. Each program concludes with a lengthy dance to celebrate the group's accomplishments.
The funds raised in the Emmanuel College Dance Marathon will go towards critical areas of need at Boston Children's Hospital including research and training, purchasing equipment, new toys for various playrooms in the hospital, and paying for uncompensated care.
"Emmanuel College is improving the lives of countless kids through its tireless and ambitious support," said Rosie Holmes, coordinator of Children's Miracle Network Hospitals Programs at the Boston Children's Hospital. "We cannot thank the students and staff enough."
In addition to dancing, the evening included a band and DJ, games, and food donated by local area businesses.
See a recap of the event at @ECDanceMarathon.
About Emmanuel College
The only Catholic college in the heart of Boston, Emmanuel inspires students to dream big and work hard as they discover—and begin to fulfill—their life's purpose. Home to more than 2,200 undergraduate and graduate students from across the nation and around the world, the College provides boundless opportunities for students to expand their worldview through rigorous coursework, collaborations with distinguished and dedicated faculty, participation in a vibrant campus community, and countless internship and career opportunities throughout the Boston area and beyond. Emmanuel's more than 50 programs in the sciences and liberal arts foster spirited discourse and substantive learning experiences that honor the College's commitment to educate the whole person and provide an ethical and relevant 21st-century education. For more information, visit http://www.emmanuel.edu.