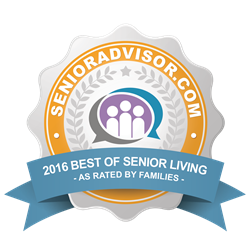 Austin, Texas (PRWEB) April 22, 2016
SeriorAdvisor.com's annual Best of Awards celebrate the best senior living and home care throughout the United States and Canada. Of the nearly 100,000 providers eligible to receive the award, just over 1,000 were recognized for this distinguished award.
Based on online reviews written by seniors and their family members, this exclusive designation celebrates the best of the best according those who matters most - the consumers. Winners of the 2016 Best of Awards represent the top tier of in-home care, assisted living, and other senior living providers with only one percent of the total providers being recognized.
Assisted and independent living facilities are a dime a dozen. Yet top-quality ones that put their residents first are surprisingly rare. Luckily, Benchmark Senior Living is an accessible high-quality choice.
The care offered at Benchmark Senior Living is top-notch. It's dedicated to the individual and is tailored to the needs of each resident. The company wants each senior's life to be as happy as possible.
Benchmark Senior Living operates dozens of communities across New England. They have senior living communities located in Connecticut, Maine, New Hampshire, Massachusetts, Pennsylvania, Rhode Island, and Vermont.
The specific services offered by Benchmark are varied. They can each be tailored for the individual resident in question. Their most common services are independent living, assisted living, memory care, respite care, and skilled nursing.
There is a reason Benchmark Senior Living is so successful – and that reason is their unique approach to senior care. They combine the best medical service with the warmth and hospitality of home. They want residents to feel like they're at home, not just another care facility.
Benchmark Senior Living has maintained an outstanding online reputation for several years, and regularly receives highly positive reviews from their families like the ones below from some of their winning communities:
"The people there were very caring and accommodating. We are very pleased with the place and would highly recommend The Village at South Farms to anyone." - Family member of resident
"My encounters thus far have been very pleasant at Academy Point At Mystic. Mom is a difficult person and the staff have dealt with her really well. I haven't had any difficulties. They are good with communication if she needs to see a doctor or anything else. I really appreciate that." - Family member of resident
"My family and I researched and visited several assisted living communities in our area. The process can be overwhelming and exhausting. Upon entering Middlebrook Farms of Trumbull, we were welcomed and immediately put at ease. Their staff is genuinely friendly and caring. The environment is beautifully decorated and very clean." - Daughter of resident
"The staff is fantastic, they have made my dad feel welcomed from day one." - Son of resident at Benchmark Senior Living at Billerica Crossings
"I think they've done a good job so far taking care of my loved one at Harbor Point of Centerville. They do a great job making people feel at home and like they are a part of the community. The staff are very friendly, and keep the place nice and clean. My loved one really seems to have settled in well here!" - Family member of resident
"Families are increasingly looking to online reviews to find out who truly delivers great care for our seniors, not just who claims to deliver great care," said Eric Seifert, President of SeniorAdvisor.com. "Our SeniorAdvisor.com Awards program is all about celebrating the exceptional people who do just that. We're honored to spread the word about these organizations whom families can entrust with the care of their senior loved ones."
To qualify for inclusion in the Best of 2016 Awards, providers must have maintained an average overall rating of at least 4.5 stars while receiving three or more new reviews in 2015. Additional details and a complete list of award winners can be found on SeniorAdvisor.com. To see the full list of award winners, please visit https://www.senioradvisor.com/awards/best-assisted-living
About SeniorAdvisor.com LLC
SeniorAdvisor.com is the largest consumer ratings and reviews site for senior living communities and home care providers across the United States and Canada. The innovative website provides easy access to the information families need when making a senior care decision, and features trusted reviews and advice from local residents and their loved ones. For more information, please visit http://www.SeniorAdvisor.com or call (866) 592-8119.