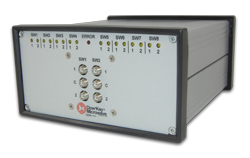 We are thrilled to introduce a miniature switch matrix to our matrix product portfolio
Ventura, CA (PRWEB) March 31, 2016
Dow-Key Microwave, a Dover Company, introduces a new product generation of switch matrices: The Miniature MS-series Matrix.
This mini matrix is an ideal switch solution for Test & Measurement requirements; designed and built with the Reliant Switch™ product series in mind. It is equipped with high performance Reliant Switches™ with 0.03 dB insertion loss repeatability across DC to 26.5 GHz and a minimum of 5 or 10 Million Life Cycles.
The miniature sized enclosure can be populated on the front panel with maximum of:
(8) SPDT Reliant Switches™
(2) SP6T Reliant Switches™
(1) SP6T + (4) SPDT Reliant Switches™
(2) SP6T + (1) SPDT Reliant Switches™
The MMS-series needs 12Vdc power supply and the switches can be controlled remotely via TCP/IP Ethernet and HTTP-Server, which has a built-in "Sequencer" feature that allows the user to program up to ten 500-step sequence programs.
"We are thrilled to introduce a miniature switch matrix to our matrix product portfolio," says Matrix Sales Product Manager, Sara Nazemzadeh.
"It's designed for the test & measurement industry where bench tests can easily be performed using Dow-Key's MMS-series Matrix. For instance, a test engineer can extend the ports on his/her Vector Network Analyzer (VNA) by adding a switch box to each VNA port, which would extend each VNA port to 12 ports.
The MMS-series can be used in many applications where RF switches are needed and it is not restricted to VNA's extension only. Furthermore, to support extensive testing on DUT's, the MMS-series matrix model is equipped with high performance switches with 0.03 insertion loss repeatability and with minimum of 5 Million or 10 Million life cycle switches, " added Ms. Nazemzadeh.
About Dow-Key® Microwave Corporation
As the world's largest manufacturer of electromechanical switches, Dow-Key® Microwave Corporation is committed to providing unparalleled customer service, competitive pricing, on-time delivery and products that are distinguished by quality and reliability. Founded in 1945, Dow-Key® is the oldest continuously operating switch manufacturer in the United States. Today, the company is part of the Microwave Products Group, a subsidiary of Dover Corporation. Dover is a multi-billion dollar, diversified manufacturer of a wide range of proprietary electronic components and systems.
For more information contact Adolf Cheung, Dow-Key Microwave at: 805-650-2329 or send an email to: askDK(at)dowkey(dot)com.