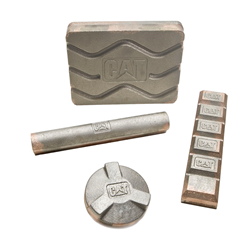 "Cat Wear Parts guarantee a longer life for your machines, and our new PartStore promo code makes ordering protection products easier and more affordable than ever." - Bob Hutter, Hawthorne Cat General Parts Manager
San Diego, CA (PRWEB) April 11, 2016
Hawthorne Cat, the exclusive Cat® equipment dealer in San Diego, the Hawaiian Islands and the Pacific Region announces a new PartStore special offer for San Diego customers. The online PartStore™ is the most convenient way to quickly order genuine Cat parts from your local dealer. Now through June 30, 2016, use the promo code WEAR20 to receive 20% off all Cat Wear Protection Products ordered online through PartStore. Choose from a wide selection of chocky bars, wear buttons, wear blocks, roll bars, and bolt protectors.
Cat Wear Parts guard machines and buckets against excessive wear in virtually any environment or application. Each part features two metal layers bonded together for high resistance and maximum impact absorption. The durable, material-on-material wear ensures increased productivity and lower maintenance costs.
According to Bob Hutter, Hawthorne Cat General Parts Manager, "Cat Wear Parts guarantee a longer life for your machines, and our new PartStore promo code makes ordering protection products easier and more affordable than ever." Hutter concludes, "The Hawthorne Cat PartStore carries over 73,000 Cat certified parts in stock, ready for direct shipping or in-store pickup."
Log on to PartStore now to take advantage of this special offer. Offer valid in San Diego only. No minimum or maximum to order. Visit the Hawthorne Cat website to learn more or call 800.437.4228 for complete offer details. For help with online registration to PartStore, please contact Michael Perez, Product Support Systems Specialist at 858.674.7169 or mperez(at)hawthornecat.com.
About Hawthorne Cat
Hawthorne Cat is the authorized dealer for Cat construction and power equipment in San Diego, Hawaii, Guam, Saipan and American Samoa. Hawthorne sells, rents, provides parts and service, training and emission solutions to various industries including general building construction, landscaping, marine, paving and power generation. For more on Hawthorne Cat, visit http://www.hawthornecat.com.