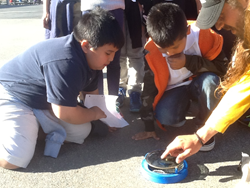 It was really inspiring to see the students get so excited to learn about solar energy and sustainability at such a young age.
ORANGE, Calif. (PRWEB) April 01, 2016
Sullivan Solar Power spent an afternoon teaching third through fifth grade students at West Orange Elementary school about how solar energy works and what to take into consideration when designing a solar power system. These students are a part of the Science Technology Engineering and Math (STEM) Academy.
The STEM Academy is currently building a physical model of a sustainable farm. The goal is to learn how to use solar energy to save on energy costs and reduce the world's carbon footprint. Sullivan Solar Power's employees taught the students of West Orange Elementary about solar thermal versus solar photovoltaics, what solar modules are made of, how to design a solar power system and the financial and environmental benefits of solar energy.
"It was really inspiring to see the students get so excited to learn about solar energy and sustainability at such a young age," said Andrew Conlisk, project developer for Sullivan Solar Power, "The STEM Academy is doing a great job at shaping the minds and futures of these children."
West Orange Elementary has offered the after-school STEM Academy to students for the last three years. The program is designed to excite students with hands-on challenges and activities in science, technology, engineering and math, strengthening the student's problem-solving and critical-thinking skills.
"We are a Title One school with a high percentage of children from low-income families that has been designated a low performing school, but has motivated students with potential. They need STEM the most," said Vicki Anderson, advisor and teacher for the STEM Academy, "We provide a designated area where students can experiment, investigate, problem-solve, design, and make projects both collaboratively and independently. I hope to provide the after-school STEM club students I teach an opportunity to become scientists and engineers who can dream, plan, invent, test and ready their creations for sharing with others."
Last school year, the STEM Academy sent two teams to present at California State University, Fullerton (CSUF)'s "Our Future Now: Sustainability Showcase." One of West Orange Elementary school's club teams won first place at the elementary level.
To learn more about solar energy visit SullivanSolarPower.com or call 1-800-SULLIVAN. To learn more about the West Orange STEM Academy and ways to help fund the after-school program, email Vicki Anderson at vickionthenet(at)gmail(dot)com.
About West Orange Elementary STEM Academy
The STEM (Science, Technology, Engineering, and Math) Academy has been involved in exciting West Orange Elementary School students for the last three years. The program implements hands-on challenges to develop critical thinking and problem-solving skills. West Orange Elementary is a Title One school in Orange, Calif. with approximately 500 students, grades kindergarten through fifth grade.
About Sullivan Solar Power
Sullivan Solar Power is a turnkey solar system provider that delivers solar electric projects from concept to completion. The company has installed more than 34,000,000 watts of solar power ranging from small-scale residential to large-scale commercial and municipal systems. Sullivan Solar Power was founded by Daniel Sullivan in 2004. Sullivan Solar Power has a longstanding A-plus rating with the Better Business Bureau, with no complaints filed since the business began. The firm has been named one of the fastest growing energy companies in the nation by Inc. Magazine and services all of Southern California. Regardless of project size and scope, Sullivan is committed to delivering the best products and the most qualified professionals to its customers. Visit sullivansolarpower.com or call 1.800.SULLIVAN for more information.
###