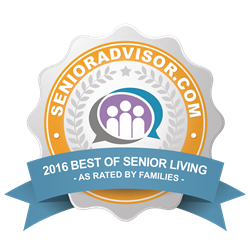 Austin, Texas (PRWEB) April 25, 2016
SeriorAdvisor.com is pleased to announce the annual Best of Awards in senior living and home care in the United States and Canada. Of the nearly 100,000 providers hosted by SeniorAdviser.com, just over 1,000 were recognized for this illustrious and highly-recognized award.
Based on online reviews written by seniors and their family members, this distinguished award celebrates the best of the best according those who matter most - the consumers. Winners of the 2016 Best of Awards represent the top tier of in-home care, assisted living, and other senior living providers.
Radiant Senior Living was established over 40 years ago in Portland, Oregon. Today, it serves the entire Pacific Northwest. Communities are available in Washington, Oregon, and Montana.
Each community is meant to be an actual community. They are designed to promote healthy relationships among residents. They are small enough to create a warm and welcoming environment. Yet, at the same time, they're large enough to offer a wide range of services and options. Social, educational, and recreational opportunities abound.
At Radiant Senior Living, your days are up to you. Fill them with what you want to do, rather than what you have to do. You have complete independence and freedom at their communities. Help is available when you want or need it.
Radiant Senior Living offers a plethora of services. Chief among these are independent living, assisted living, and memory care. Each service is tailored to each resident.
Community is central at Radiant Senior Living. Every other facet of the service stems from it. The community is established through the laidback atmosphere, great health care, outstanding customer service, and wide range of activities. Residents at Radiant Senior Living facilities keep on living life despite the change of scenery.
Radiant Senior Living has maintained an outstanding online reputation for several years, and regularly receives highly positive reviews from their families like the ones below from some of their winning communities:
"We knew South Pointe was the one for mom and dad right away! Nicely laid out, lovely cottages, grounds well kept, the building was neat, clean, very homey feel! The staff was very helpful and is also very nice and pleasant to its residents who seem happy as well! We are very pleased to have our parents at South Pointe, great choice all around!" - Daughter of resident
"The activities are client-driven, rather than everyone just playing Bingo. People come together and say they want a book club and do that, or get a pool table for the guys. They are just very resident-driven. The activities director is fantastic." - Visitor at Pioneer Village
"The staff has gone above and beyond at Barnett Woods to get my mom into this facility. They definitely care about and go out of their way to accommodate the residents - I have never had anyone NOT acknowledge me and the family oriented attitude shows. The food there is really good; fresh and a varied selection. The activities director is fabulous and there is a good range of activities considering the ages of the residents. Residents can participate on out of town trips or stay closer to home. Overall, I think it is an excellent value compared to other places that we have looked into." - Family member of resident
"Families are increasingly looking to online reviews to find out who truly delivers great care for our seniors, not just who claims to deliver great care," said Eric Seifert, President of SeniorAdvisor.com. "Our SeniorAdvisor.com Awards program is all about celebrating the exceptional people who do just that. We're honored to spread the word about these organizations whom families can entrust with the care of their senior loved ones."
To qualify for inclusion in the Best of 2016 Awards, providers must have maintained an average overall rating of at least 4.5 stars while receiving three or more new reviews in 2015. Additional details and a complete list of award winners can be found on SeniorAdvisor.com. To see the full list of award winners, please visit https://www.senioradvisor.com/awards/best-assisted-living
About SeniorAdvisor.com LLC
SeniorAdvisor.com is the largest consumer ratings and reviews site for senior living communities and home care providers across the United States and Canada. The innovative website provides easy access to the information families need when making a senior care decision, and features trusted reviews and advice from local residents and their loved ones. For more information, please visit http://www.SeniorAdvisor.com or call (866) 592-8119.