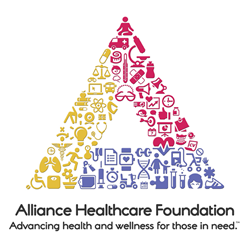 "Our 2016 Innovation Initiative will go to an organization that demonstrates their passion and commitment to more effective healthcare and / or systems change related to health and wellness for those who need them most." - Nancy Sasaki, Executive Director
San Diego, CA (PRWEB) April 07, 2016
Alliance Healthcare Foundation (AHF), a nonprofit organization that works to improve health and wellness for San Diego and Imperial County residents in need, has opened the application period for its annual $1 million Innovation Initiative (i2).
"The Innovation Initiative provides visionary organizations with the resources they need to make a positive difference that advances the health and wellness of those in need in our community," AHF Board Chair Elizabeth Dreicer said. "Notably, we are looking for those organizations that show a high potential for decreasing costs associated with healthcare, increasing the number of people who are served, and improving the quality of that experience."
Now in its sixth year, the Innovation Initiative is granted to San Diego and Imperial County nonprofits who create impactful healthcare solutions through creative execution and agile thinking. AHF's goal is to create measurable improvements by looking at the way it approaches nonprofit services in a new light—one that is more efficient, effective, and human.
"Each year, Alliance Healthcare Foundation seeks out transformative ideas that have the potential to serve as the catalyst for change," said AHF Executive Director Nancy Sasaki. "Our 2016 Innovation Initiative will go to an organization that demonstrates their passion and commitment to more effective healthcare and / or systems change related to health and wellness for those who need them most."
Previous recipients of AHF's Innovation Initiative are: Solutions for Change, North Inland Family Medicine (a collaboration between Mental Health Systems and Mountain Health & Community Services), Community Information Exchange (CIE), Text4baby, One-e-App, Access Youth Academy, and UC San Diego - Wireless Observed Therapy.
"This funding from Alliance Healthcare Foundation will allow us to embed a primary care clinic, operated by Mountain Health, into a mental health center, operated by Mental Health Systems," said Anthony Jensen, MD, Chief Medical Officer with Mental Health Systems. "We estimated that 74 percent of the clients at our mental health center also have one or more chronic health conditions, many of which go untreated. This integration pilot will allow us to create a whole person care model, which we feel will provide a roadmap for how care is provided to this population in other clinics."
AHF welcomes those interested in applying to look into the application process further here.
# # #
About Alliance Healthcare Foundation
Alliance Healthcare Foundation is a San Diego-based nonprofit that works with nonprofit, government and community agencies to advance health and wellness throughout the San Diego and Imperial Counties. AHF works to serve the most vulnerable—the poor, the working poor, children, and the homeless by providing grants, advocacy, and education to support its region.
To learn more about AHF and available grants visit http://AllianceHF.org.