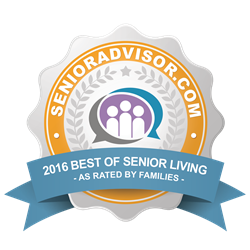 Austin, Texas (PRWEB) April 27, 2016
The top ten percent of in-home in senior living and home care is best exemplified by the 2016 Annual SeniorAdvisor.com Best of Awards. This elite distinction identifies in-home care, assisted living, and other senior living providers that are in the top tier of senior care providers throughout the United States and Canada.
Winners of the Best of 2016 Awards are selected according to reviews shared by seniors and their families. Of the nearly 100,000 providers currently registered on SeniorAdvisor.com, these leading 1,000 or so facilities have been acknowledged as the best of the best according to those who matter most - their residents and families.
Merrill Gardens is a particularly successful senior living provider. With communities in Alabama, Arizona, California, Georgia, Nevada, and Washington, they have quickly become one of the leading care providers in the United States.
The mission at Merrill Gardens is simple. It's focused on life getting bigger and better rather than smaller. Few limitations are set and freedom and flexibility are encouraged.
You deserve to continue doing what you enjoy despite your old age. You deserve to have friends, pursue hobbies, and do the things you love. You deserve to choose how you want to spend your days. This is the philosophy of Merrill Gardens. Each of their senior care facilities takes these ideas to heart.
Through a combination of freedom, excellent customer support, and tailored programs, Merrill Gardens provides a stellar senior living experience. Specific care options include assisted living, independent living, memory care, and more.
At the end of the day, Merrill Gardens is committed to long-term care and a strong emphasis on individuality. It's a senior care community that promotes growth above all else. It's a place to continue living each day to the fullest.
Merrill Gardens has maintained an outstanding online reputation for several years, and regularly receives highly positive reviews from their families like the ones below from some of their winning communities:
"The Oaks is not your average retirement home and when I say this, it is a good thing. The staff is phenomenal, the facility is super clean, and the food is even great! Awesome place and I am glad we found it." - Family member of resident
"My mom has been at The Groves for a little over a month and we couldn't be happier! Every staff member is warm, caring and intuitive to the residents' needs. Her transition has gone more smoothly than I ever thought possible! I would highly recommend The Groves for your loved one's care needs." - Daughter of resident
"Northgate Plaza is a nice place. Everyone is extremely friendly, the residents and the staff. The staff is very helpful and accommodating. The facility has a nice and clean atmosphere. The value is excellent for the services that you receive here. They offer activities. It has been a positive experience. This is an excellent community. We haven't had any issues or anything negative happen. It has been great." - Family member of resident
"I am still getting settled in but so far the experience has been amazing. The staff have such a willingness to help and go above and beyond to make sure I am comfortable as a new resident. The food here is very good and the activities are just wonderful. Everyday here is an exercise class and they also have a stationary bike and treadmill that I have taken advantage of. Every Friday they have a happy hour where I am able to enjoy a glass of wine a socialize with the other residents which is nice. The community also has a library! With so much to do I am confident this will be one of the best decisions I could've made!" - Resident at The Creekside
"Families are increasingly looking to online reviews to find out who truly delivers great care for our seniors, not just who claims to deliver great care," said Eric Seifert, President of SeniorAdvisor.com. "Our SeniorAdvisor.com Awards program is all about celebrating the exceptional people who do just that. We're honored to spread the word about these organizations whom families can entrust with the care of their senior loved ones."
To qualify for inclusion in the Best of 2016 Awards, providers must have maintained an average overall rating of at least 4.5 stars while receiving three or more new reviews in 2015. Additional details and a complete list of award winners can be found on SeniorAdvisor.com. To see the full list of award winners, please visit https://www.senioradvisor.com/awards/best-assisted-living
About SeniorAdvisor.com LLC
SeniorAdvisor.com is the largest consumer ratings and reviews site for senior living communities and home care providers across the United States and Canada. The innovative website provides easy access to the information families need when making a senior care decision, and features trusted reviews and advice from local residents and their loved ones. For more information, please visit http://www.SeniorAdvisor.com or call (866) 592-8119.