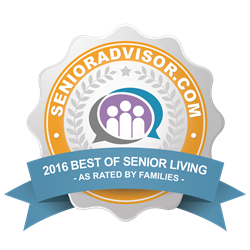 Austin, Texas (PRWEB) April 12, 2016
The SeniorAdvisor.com Best of Awards characterizes the top-ranking in-home care, assisted living, and other senior living providers. This award recognizes the top one percent of providers and, more importantly, the winners are chosen by the consumers themselves. Chosen according to reviews written by seniors and their families, winners of the Best of Awards are the renowned 1,000 out of nearly 100,000 providers across the United States and Canada.
A long-time leader in senior housing, Ridgeline Management is making a big splash in the senior care community. With more than twenty facilities in nine states, the company has come a long way from their humble beginnings in West Linn, Oregon.
Ridgeline Management offers all of the standard senior care services. These include assisted living, independent living, and memory care. What makes these services stand out from the pack is Ridgeline Management's commitment to value. They strive to make all of their communities positive and vibrant places to live.
Indeed, Ridgeline Management is dedicated to keeping seniors as independent as possible for as long as possible, even when it's more difficult to do so. Joy and wellness are the focus of each day and every member of its staff is committed to this mission.
A unique experience is offered at these senior care facilities. It's not the same old routine everyday. It's not getting told what to do. Integrity and honesty are built into the experience so the seniors are still in control of their lives.
Few senior care providers combine excellent medical care with as much freedom as Ridgeline Management. The company has one of the highest resident and family satisfaction rates of any in the states they currently operate.
Ridgeline Management has maintained an outstanding online reputation for several years, and regularly receives highly positive reviews from their families like the ones below from its winning community in Hobart, Indiana:
"The staff at Brentwood at Hobart were very friendly and took care of dad and made him as comfortable as possible during his stay. The security on the memory care floor was awesome and safety wasn't an issue." - Family member of a resident
"Families are increasingly looking to online reviews to find out who truly delivers great care for our seniors, not just who claims to deliver great care," said Eric Seifert, President of SeniorAdvisor.com. "Our SeniorAdvisor.com Awards program is all about celebrating the exceptional people who do just that. We're honored to spread the word about these organizations whom families can entrust with the care of their senior loved ones."
To qualify for inclusion in the Best of 2016 Awards, providers must have maintained an average overall rating of at least 4.5 stars while receiving three or more new reviews in 2015. Additional details and a complete list of award winners can be found on SeniorAdvisor.com. To see the full list of award winners, please visit https://www.senioradvisor.com/awards/best-assisted-living
About SeniorAdvisor.com LLC
SeniorAdvisor.com is the largest consumer ratings and reviews site for senior living communities and home care providers across the United States and Canada. The innovative website provides easy access to the information families need when making a senior care decision, and features trusted reviews and advice from local residents and their loved ones. For more information, please visit http://www.SeniorAdvisor.com or call (866) 592-8119.