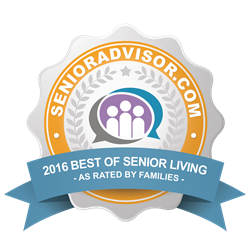 Austin, Texas (PRWEB) April 04, 2016
The annual SeniorAdvisor.com Best of Awards represent the top tier of in-home care, assisted living, and other senior living providers with only the top one percent of providers in North America being recognized. Based on online reviews by seniors and families themselves, these awards recognize and celebrate the best of the best in senior living and home care across the United States and Canada.
Of more than 180 communities in North America, 53 Atria Senior Living communities were selected as of Best of Senior Living Award recipients. Of large national and regional organizations, Atria represented the fourth largest amount of winning providers.
Life at Atria Senior Living is almost as good as it gets. The company's many communities place a strong emphasis on both physical and mental wellbeing and health.
The Atria Senior Living experience is especially unique. Each community is just that – a real community. Independence and freedom are encouraged. Seniors are given the ability to make their own decisions and live each day the way they want to.
Atria Senior Living strives to create a welcoming atmosphere. They want seniors, and their families, to feel immediately at home. Step through their doors and the vibrancy of the community will likely overwhelm you. It really does feel like a place to call home.
Independent living and assisted living are at the forefront of the senior care options offered by Atria. Most residents start in one of these programs, transitioning into others if needed. Memory care is another common service. It's special residential care for those suffering from dementia or Alzheimer's.
Atria Senior Living is always expanding. They are also always refining their many services to make them even better. Communities are currently located in 27 states, with plans to expand to several more in the near future.
Atria Senior Living has maintained an outstanding online reputation for several years and regularly receives highly positive reviews from their families like the ones below from some of their winning communities:
"Atria Del Rey is an amazing community that is completely centered on giving seniors a place to live and enjoy life. The staff is caring and always positive in their interactions. I feel like it's resort living with a built in support system. Thank you Atria for treating my mom in law with respect, dignity and care." - Family member of resident
"Overall our experience with Atria Bethlehem has been a very positive one. The facility itself is well kept and clean, and the staff have been professional and easy to work with. The people here are conscientious, considerate, and very customer oriented." - Family member of resident
"They feed me, they clothe me, and I just like being pampered and not feeling like I'm being taken care of." - Resident at Atria Lynbrook
"Atria Guilderland is a beautiful setting. The staff have gone above and beyond in caring for my loved one. Living at a distance that provides great peace of mind knowing she is in a safe, caring environment." - Family member of resident
"We were given about one week's notice that Mom would be discharged only to assisted living or 24/7 in home care. Atria Sutton staff quickly responded, assessed Mom's condition, processed documents and ensured her apartment was ready. They made the move easier on mom and the family." - Family member of resident
"We looked at several homes, but none had the ambiance and homey feel that Atria Bell Court Gardens did. No hard sell. Everything was spotless. Food and service were great. The facility and grounds are beautiful. I only wish I could move in too!" - Family member of resident
"I really appreciate them for letting me stay a few days later than I should have. My father had passed and I needed a place to regroup. The staff was really great. The food and location was good. I just appreciate their kindness to me. The director's name was very nice. The financial worker there was very nice as well. I would recommend the Atria St. Matthews to anyone." - Family member of resident
"Atria Rancho Park is a very nice place, overall! The staff here is exceptional! They are very friendly, accommodating, and professional, and they really went out of their way to try and help my loved one feel at home. I've seen quite a few senior communities, and I would highly recommend Atria Rancho Park!" - Family member of resident
"My father is the typical stubbornly independent man who claimed he was just fine at home watching his TV and doing his puzzles. My siblings and I cannot believe how active and involved he is now that he is at Atria Lincoln Place. He goes on every outing, he participates in all the games, lectures & entertainment that there is. When I go to visit, he tells me to come back because he wanted to do what was on the calendar! I feel like the amazing staff at Atria has gone above and beyond since day one and added years onto his life. Would recommend this to community to everyone!" - Daughter of resident
"I am very impressed with the staff at Atria Applewood. Every one is so kind and gentle with the residents and their families. My mother is a resident in the memory care side. They are great with her. It is so clean that I believe you could actually eat off the floor." - Family member of resident
"Families are increasingly looking to online reviews to find out who truly delivers great care for our seniors, not just who claims to deliver great care," said Eric Seifert, President of SeniorAdvisor.com. "Our SeniorAdvisor.com Awards program is all about celebrating the exceptional people who do just that. We're honored to spread the word about these organizations whom families can entrust with the care of their senior loved ones."
To qualify for inclusion in the Best of 2016 Awards, providers must have maintained an average overall rating of at least 4.5 stars while receiving three or more new reviews in 2015. Additional details and a complete list of award winners can be found on SeniorAdvisor.com. To see the full list of award winners, please visit https://www.senioradvisor.com/awards/best-assisted-living
About SeniorAdvisor.com LLC
SeniorAdvisor.com is the largest consumer ratings and reviews site for senior living communities and home care providers across the United States and Canada. The innovative website provides easy access to the information families need when making a senior care decision, and features trusted reviews and advice from local residents and their loved ones. For more information, please visit http://www.SeniorAdvisor.com or call (866) 592-8119.