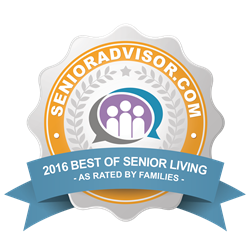 Austin, Texas (PRWEB) April 15, 2016
SeniorAdvisor.com's annual Best of Awards identify the foremost providers in senior living and home care in the United States and Canada. This select honor distinguishes the top one percent of senior care providers, with a mere 1,000 providers being recognized out of nearly 100,000 across North America.
Winners of the SeniorAdvisor.com Best of 2016 Awards are selected according to reviews created by seniors and their families. These in-home care, assisted living, and other senior living providers honorably represent the best choice in care according to those who matter most - their customers.
Spectrum Retirement is based out of Denver, Colorado. Since their inception, they've expanded their services to several other states including Arizona, Colorado, Illinois, Indiana, Kansas, Michigan, Missouri, New Mexico, New York, Ohio, Oregon, and Texas.
The expert team of professionals at Spectrum Retirement has decades of experience with senior care and senior housing. This has allowed them to create some of the best senior care facilities in the state. Staff members take pride in their jobs and truly want to help residents.
Spectrum Retirement focuses on luxury senior living. Each community is located in a desirable location. Often, these provide the easiest access to shopping, residential neighborhoods, and medical facilities. The senior care provider strives to provide residents with the ability to continue personal growth.
Health and wellness are at the forefront of all of Spectrum Retirement's senior care programs. These programs include independent living, assisted living, and memory care. Respite stays are also available for seniors recovering from injury, illness, or a hospital stay.
State-of-the-art in every sense of the term, Spectrum Retirement only plans to refine their communities in the future. Expect more communities, even better care, and countless happy residents.
Spectrum Retirement has maintained an outstanding online reputation for several years, and regularly receives highly positive reviews from their families like the ones below from some of their winning communities:
"They have been excellent. She's remarkably better than when we first brought her there, she is almost her old self. She likes that she gets three hot meals a day. We are so happy with the place, we are moving another loved one here. I think they were comparable in price, and the location was really ideal. Everyone there is very helpful and friendly. They really go out of their way to make people comfortable." - Family member of resident at Park Meadows Senior Living
"My mother loves it. We moved her to Palos Verdes Senior Living from Florida. The social aspect of living in a community has done wonders for her. The staff has been very helpful and very considerate of the residents living there." - Family member of resident
"Our Dad is one of the original assisted living residents at our Meadow Brook. The experience has be exceptional. When Dad moved in, he was rebounding from a near-death experience. The attention that he has received at Meadow Brook Senior Living has been amazing. The nurses and attendants are great. The Physical Therapy has been great. He enjoys the other tenants. There are activities to keep him busy. The food has been exceptional." - Family member of resident
"At Creve Coeur Assisted Living a lot of the residents seem to like it very well. This facility has only been open since January and it's already full. I have a life long friend that is my neighbor here. That is really nice to have people I know living around me. Overall it has been a great experience so far." - Resident
"So far our experience with The Gardens at Westlake has been a very good one. It's a clean, nice looking facility, and all of the staff I have met seem friendly and professional. My loved one settled in quickly and really seems to be enjoying himself!" - Family member of resident
"I toured Pine Ridge Retirement Community at Plumbrook 2 weeks ago looking for a place for my mom. After visiting other communities, I chose this one because everyone was very nice. The lady who led out tour was very caring and genuine. I am very happy my mom is moving here. It is so clean and welcoming. We enjoyed the food and the cook came out and introduced himself. Everything was very delightful." - Family member of resident
"My sister and I are so happy we placed our mother here! The staff is very friendly, upbeat, kind and attentive! There are such a variety of menu choices and the food is very good. The activities change everyday and there is something offered just about every hour so there is something for everyone's interest - bingo, movies, crafts, sing alongs, eentertainment, games & cards, just to name a few." - Daughter of resident at Villas of Shelby
"We're very pleased with how things have turned out with Crestview Senior Living, I'd give them high marks across the board! They're friendly and accommodating, and more than happy to help with anything you ask for. It's a nice looking place, the food is good, and they take great care of the residents!" - Family member of resident
"Our Mother has lived there for over a year now. She is hardly in her room!! She is out and about playing games doing some crafts going on outing or just out visiting. Last year we had a surprise birthday party there. They provided a room for us and it went well! We are so pleased she is doing well there. " - Daughter of resident at Lakeview Senior Living
"The staff was most accommodating to her needs and to family visits as well. The staff treated her like family but without being intrusive. She enjoyed the comraderie of her friends and new friends in a lovely dining room. She often told us about the evening movies, the bus jaunts and the special events. She didn't have time to be bored. Crescent Park is so much more than any preconceived ideas the public may have about Senior Living. " - Daughter of resident
"Families are increasingly looking to online reviews to find out who truly delivers great care for our seniors, not just who claims to deliver great care," said Eric Seifert, President of SeniorAdvisor.com. "Our SeniorAdvisor.com Awards program is all about celebrating the exceptional people who do just that. We're honored to spread the word about these organizations whom families can entrust with the care of their senior loved ones."
To qualify for inclusion in the Best of 2016 Awards, providers must have maintained an average overall rating of at least 4.5 stars while receiving three or more new reviews in 2015. Additional details and a complete list of award winners can be found on SeniorAdvisor.com. To see the full list of award winners, please visit https://www.senioradvisor.com/awards/best-assisted-living
About SeniorAdvisor.com LLC
SeniorAdvisor.com is the largest consumer ratings and reviews site for senior living communities and home care providers across the United States and Canada. The innovative website provides easy access to the information families need when making a senior care decision, and features trusted reviews and advice from local residents and their loved ones. For more information, please visit http://www.SeniorAdvisor.com or call (866) 592-8119.