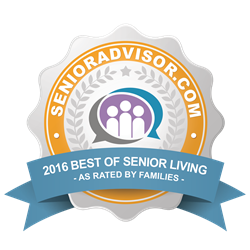 Austin, Texas (PRWEB) April 07, 2016
SeniorAdvisor.com's annual Best of Awards recognize the leading providers in senior living and home care in the United States and Canada. This exclusive designation honors the top one percent of senior care providers in North America.
Winners of the SeniorAdvisor.com Best of 2016 Awards are chosen according to reviews written by seniors and their families. This means that these in-home care, assisted living, and other senior living providers honestly represent the best choice in care according to those who matter most - the consumers themselves.
Harbor Retirement Associates is one of the most well-respected senior living providers in the country. Based out of Florida, they operate senior living communities in 8 states.
The primary focus of Harbor Retirement Associates is assisted living and memory care. The bulk of their communities are dedicated to these programs. However, they have plans to double in size over the next three years. A large portion of the new communities will be dedicated to independent living as well as skilled nursing care.
Like all of the best senior living companies in the United States, Harbor Retirement Associates sticks to a specific mission. In short, they strive to create communities with meaningful culture, where the founders themselves would one day envision living.
The mission of Harbor Retirement Associates is shown through their core values. These include respect, attentiveness, integrity, stewardship, and excellence. They want to be the best senior care provider they can be, day in and day out.
Indeed, this is exactly why Harbor Retirement Associates is so popular. Seniors, when given the choice, want to live in these communities. They are comfortable, vibrant places to call home.
Harbor Retirement Associates has maintained an outstanding online reputation for several years, and regularly receives highly positive reviews from their families like the ones below from some of their winning communities:
"They are very family oriented, and are very attentive. Any time I have any questions they are there to listen, respond, and help out in any way they can. The move in process was very smooth - they were very helpful and accommodating." - Family member of resident at HarborChase of North Collier in Naples, FL
"I was at Harbor Chase of Columbia for respite care. Was very pleased with my room and the care I received.. Great view of the lake. Good walking area. Porch for enjoying the outside. Staff was very friendly and helpful." - Resident
"Families are increasingly looking to online reviews to find out who truly delivers great care for our seniors, not just who claims to deliver great care," said Eric Seifert, President of SeniorAdvisor.com. "Our SeniorAdvisor.com Awards program is all about celebrating the exceptional people who do just that. We're honored to spread the word about these organizations whom families can entrust with the care of their senior loved ones."
To qualify for inclusion in the Best of 2016 Awards, providers must have maintained an average overall rating of at least 4.5 stars while receiving three or more new reviews in 2015. Additional details and a complete list of award winners can be found on SeniorAdvisor.com. To see the full list of award winners, please visit https://www.senioradvisor.com/awards/best-assisted-living
About SeniorAdvisor.com LLC
SeniorAdvisor.com is the largest consumer ratings and reviews site for senior living communities and home care providers across the United States and Canada. The innovative website provides easy access to the information families need when making a senior care decision, and features trusted reviews and advice from local residents and their loved ones. For more information, please visit http://www.SeniorAdvisor.com or call (866) 592-8119.