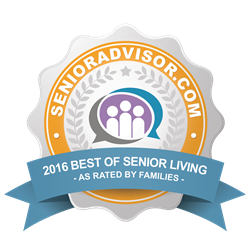 Austin, Texas (PRWEB) April 29, 2016
SeniorAdvisor.com presents the annual 2016 Best of Awards for in-home care, assisted living, and other senior living providers. Winners of the Best of Awards are chosen according to reviews written by seniors and families themselves. Those chosen represent the very best in senior living and home care with only a little over 1,000 out of nearly 100,000 providers being recognized. These distinguished elite truly exemplify the top one percent of senior care providers.
Silverado Care is one of those senior living organizations that takes a different approach from the rest. The folks behind the company started with the question, "What do I want for my own family?" They then developed a unique service in response.
The foundation of Silverado is based on the answers to this question. Every aspect of the company and their services is designed with family in mind. This ensures the highest quality of care for every single resident.
Staff at Silverado are friendly and compassionate. It's the first thing you notice when you walk through the doors of one of their communities. Located across Arizona, California, Illinois, Texas, Utah, Washington, Wisconsin, and more, Silverado's warm and welcoming approach to senior care has caught on big time.
Today, Silverado Care provides a wide range of senior care services. There is a little something for everyone. Best of all, each program can be individually tailored to best meet the needs of each resident. Popular care programs include independent living, assisted living, and memory care.
Silverado is dedicated to top quality care. And this doesn't just mean the best medical care. It also means creating and maintaining resident wellness, family relationships, and a welcoming living environment.
Silverado Care has maintained an outstanding online reputation for several years, and regularly receives highly positive reviews from their families like the ones below from some of their winning communities:
"The staff here are incredible! I don't even know how to explain how highly I think of them. The entire place just has a welcoming, family atmosphere. The staff are always smiling, and they wear casual clothing, not uniforms, which really contributes to the place feeling like a home, and not like an institution." - Family member of resident at Silverado Brookfield
"One of the biggest pluses for our family is that the staff readily welcomed mom's little dog into the Silverado family. Mom has now been living at Silverado for two months and is well adjusted and happy." - Daughter of resident at Silverado Naperville
"Silverado Onion Creek is a beautiful community. The staff are very friendly and considerate. They listen to everything you say and try to answer. What's unique is all of their staff are trained to handle Dementia patients, from the admin to the kitchen staff." - Family member of resident
"The staff at Silverado Escondido really love what they do. I appreciate how much they want to care for and love on my Grandpa as he lives with Alzheimer's. I can go about my day and the things I need to do without worrying about him as much as I did before moving him to Silverado." - Family member of resident
"We came to Silverado Valley Ranch as a referral from another unit. From minute one my husband has felt comfortable and welcome. As a result, I have felt at ease and comfortable with his being here. All personnel know each resident by name and treat each one with respect." - Spouse of resident
"They have done really well with meeting my aunt's needs. Any time I have something that needs to be done I can just call them and I get an immediate response and have whatever it is taken care of right away." - Family member of resident at Silverado Peoria
"Amazing Engagement with activities. You would think they were a non-profit by the way they run things. I do not know how to say how happy we are. They engage the whole person, not just the body." - Family member of resident at Silverado Belmont Hills
"Families are increasingly looking to online reviews to find out who truly delivers great care for our seniors, not just who claims to deliver great care," said Eric Seifert, President of SeniorAdvisor.com. "Our SeniorAdvisor.com Awards program is all about celebrating the exceptional people who do just that. We're honored to spread the word about these organizations whom families can entrust with the care of their senior loved ones."
To qualify for inclusion in the Best of 2016 Awards, providers must have maintained an average overall rating of at least 4.5 stars while receiving three or more new reviews in 2015. Additional details and a complete list of award winners can be found on SeniorAdvisor.com. To see the full list of award winners, please visit https://www.senioradvisor.com/awards/best-assisted-living
About SeniorAdvisor.com LLC
SeniorAdvisor.com is the largest consumer ratings and reviews site for senior living communities and home care providers across the United States and Canada. The innovative website provides easy access to the information families need when making a senior care decision, and features trusted reviews and advice from local residents and their loved ones. For more information, please visit http://www.SeniorAdvisor.com or call (866) 592-8119.