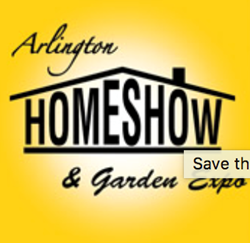 MOSS will be presenting their HandyMOM101 Patch-It workshop from 2-3pm on the Main Stage at this year's Arlington show
Chantilly, VA (PRWEB) March 31, 2016
Top Northern Virginia remodeling company Moss Building and Design will be attending the 10th Annual Arlington Home Show & Garden Expo on April 9th, 2016. MOSS is looking forward to the show after being voted Best Remodeler by the readers of Arlington Magazine and to be able to connect with local Arlington homeowners who may be looking to remodel their home. From a variety of exhibitors, Ask an Expert, and free educational workshops, the Arlington Home Show & Garden Expo will be a great place to gather ideas for all home improvement projects.
Whether it is a bathroom remodel, kitchen remodel, an in-law suite or a Home Services job, MOSS is hoping to have another great turnout following the Capital Remodel and Garden Show, where they connected with hundreds of customers and were able to teach valuable DIY Skills in their HandyMOM101 presentation. MOSS will be presenting their HandyMOM101 Patch-It workshop from 2-3pm on the Main Stage at this year's Arlington show. MOSS' HandyMOM101 is just one way they give back to the community they serve.
If you are an Arlington homeowner and are hoping to talk to someone at MOSS about your project, stop by their booth at the Home Show, or check out their HandyMOM101 presentation on April 9th. For more information about MOSS in the Arlington community, read Pam Kopiak's latest blog post highlighting MOSS-led initiatives in the Arlington community.
About Moss Building & Design and Moss Home Services:
Moss Building & Design and Moss Home Services is an award-winning residential remodeling and home services company located in Chantilly, Virginia. As a trusted home improvement company in Northern Virginia, MOSS focuses on providing customer service that is unparalleled by any other contractors in the area. Through character, transparency and trust, MOSS builds life-long relationship with customers. Over 85% of customers consider themselves a customer for life.
Since 2001, MOSS has established a reputation for excellence in remodeling additions, kitchens, bathrooms, basements and home services throughout Northern Virginia. Their customers see them as a trusted partner, and MOSS is very proud that over 85% of their customers consider themselves 'customers for life.' Moss Building & Design has won consumer awards from Angie's List for six consecutive years and also has an A+ rating from the Better Business Bureau as well as many industry building and design awards.