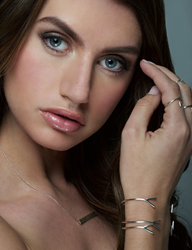 We are thrilled that so many people have taken a special interest in Liberti. All who have contributed to the campaign are ultimately helping to empower refugees and their families and give them access to unique, career-building opportunities
Denver, CO (PRWEB) April 01, 2016
Liberti, a Colorado-based lifestyle brand dedicated to making social impact, has enjoyed great early success on the crowdfunding site Indiegogo with its high-end, handcrafted jewelry product line, the <1% (less than) collection.
The campaign, which has surpassed its initial goal of $20,000, will allow the mission-inspired social enterprise to kickstart the company's apprenticeship program to employ and empower U.S. resettled refugees.
"We are thrilled that so many people have taken a special interest in Liberti. All who have contributed to the campaign are ultimately helping to empower refugees and their families and give them access to unique, career-building opportunities." said Liberti founder, Pamela Norton-Shelpuk. "It shows how caring people truly are when others need help."
The <1% collection represents the less than one percent of refugees worldwide who are granted the ability to resettle in a new country. There are 14.4 million (and counting) refugees of concern around the world, according to the United Nations Refugee Agency. The collection was created with the intention to spread awareness for the small percentage of refugees who are able to rebuild their lives while also inspiring hope and positive change for those who remain behind.
Through their Indiegogo campaign, supporters have the opportunity to pre-order Liberti jewelry from the limited edition <1% collection at a discounted price or make a direct donation to the company.
Funds raised will support their apprenticeship program designed to onboard refugee employees as well as continued creation and production of jewelry collections.
With all aspects of the business including manufacturing, business operations and product sourcing based in the U.S., Liberti's apprenticeship program aims to integrate refugee employees based on current skills, strengths and interests while providing on-the-job training and career building opportunities.
For more information on Liberti and to pre-order the <1% collection, visit: https://www.indiegogo.com/projects/liberti-jewelry-that-goes-beyond-its-beauty#/
About Liberti
Founded in 2015 in Denver, Colorado, Liberti is a mission-inspired lifestyle brand creating exquisite jewelry with a meaningful impact. With a unique business model and for-profit but mission-driven bottom line, Liberti aims to employ and empower U.S. refugees integrating them in all aspects of their American-operated business and providing on-the-job training and career building opportunities. The vision is to enable resettled refugees to truly become free to the live the American dream, and eventually, Liberti hopes to give all employees the opportunity to become shareholders in the business they're helping to create.
Using exclusively ethically sourced and high-quality materials, Liberti is committed to creating products with American-made craftsmanship that are as sustainable and authentic as they are beautiful with the intention of spreading love and kindness in every unique piece. To learn more about Liberti, visit the website http://www.libertiusa.com and connect with Liberti on Facebook, Instagram, Pinterest or Twitter.