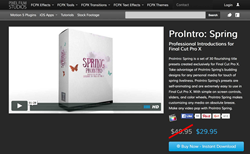 ProIntro Spring is an amazing seasonal set of intros for FCPX users.
Aliso Viejo, CA (PRWEB) April 01, 2016
ProIntro Spring is a set of 30 flourishing title presets created exclusively for Final Cut Pro X. Take advantage of ProIntro Spring's budding designs for any personal media for a touch of spring liveliness. ProIntro Spring's presets are self-animating and are extremely easy to use in Final Cut Pro X. With simple on screen controls, sliders, and color wheels, ProIntro Spring makes customizing any media an absolute breeze. Make any video pop with ProIntro Spring.
ProIntro Spring brings blossoming designs that seem to just grow out of the screen. Choose from thirty bright spring titles to add an inspiring light to any media. These self-animating designs help to add a lush spring feel to any project
ProIntro Spring presets are delightfully easy to use. Easily modify position, scale, and rotation of the titles using on-screen controls available in Final Cut Pro X. Various sliders and color selectors are located in the inspector window to customize spread, length, and color of title elements.
ProIntro Spring allows users to customize the media under the presets by using color wheels and setting sliders. Create a misty look with the blur control to create a contrast between media and titles. To further the inspiring look, simply apply a tint on the background as needed.
ProIntro Spring is made exclusively for Final Cut Pro X. Editors can modify these verdant animated titles using the included on-screen controls and parameter controls found in the FCPX inspector window. Easily drag and drop any of the included 30 presets on top of media to add a touch of colorful beauty to any video.
Established in 2006, Aliso Viejo, California-based Pixel Film Studios is an innovative developer of visual effects tools for the post-production and broadcast community. Their products are integrated with popular non-linear editing and compositing products from Apple FCPX. Apple, the Apple logo, Mac OS X, and Macintosh are registered trademarks of Apple Inc. in the U.S. and/or other countries. All other trademarks and trade names are the property of their respective owners.