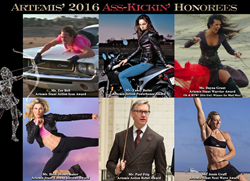 Los Angeles, CA (PRWEB) April 05, 2016
The Artemis Women in Action Film Festival is thrilled to announce the presentation of The Artemis Action Rebel Award to recognize Director/Writer Paul Feig (Ghostbusters, Spy, The Heat) for his work that smashes conventions and perceptions of women in film. Mr. Feig has been unafraid to show women as physically strong, empowered characters in film during an era in which this is not the norm.
The festival's headlining event will be the Friday Red Carpet Gala featuring the Honoree Award Ceremony and premiere headline screenings. Our Honoree Award ceremony will also recognize iconic action actress Yancy Butler (Witchblade, Kick-Ass, Kick-Ass 2) with the Action Powerhouse Award. Superstar stuntwomen/actresses Zoe Bell (Hateful Eight, Death Proof, Kill Bill, Xena) will receive the Artemis Stunt Icon Award and A-List stuntwoman Heidi Moneymaker (Iron Man 2, Captain America: Winter Soldier, Furious 7) will receive the Artemis Stunt Unsung Heroine Award. World renowned stuntwoman/stunt coordinator Dayna Grant (Mad Max, Hercules, Ash Vs. Evil Dead, Xena) will receive the Artemis Stunt Warrior Award, and stuntwoman and Ninja Warrior Jessie Graff (Bridesmaids, Barely Lethal, Bad Teacher, American Ninja Warrior) will be recognized with the Artemis Stunt Next Wave Award.
All honorees are expected to attend the festival.
Our headlining films include the world premiere of No Touching, the long awaited horror short starring Zoe Bell and Heidi Moneymaker, and an exclusive extended sneak peek of the female action feature Fight Valley, starring UFC champ Miesha Tate, former UFC Champ Holly Holm, and Invicta Champ Cristiane Cyborg Justino. The extended peek will feature exclusive never-before-seen footage of the film scheduled to premiere this July. Additionally, the US premiere of British National Film Award nominee Never Let Go, directed by Howard J. Ford and starring Angela Dixon, will be the feature presentation.
Radio legend Sheena Metal will broadcast her drive-time radio show The Sheena Metal Experience during the Red Carpet Gala. Go Curvy founder Sherry Lee Meredith will conduct live interviews from the Red Carpet.
A stunt panel discussion is set for 3:00pm on Friday and will include stunt icons Andy Armstrong, Jenifer Caputo, Zoe Bell, Angela Meryl, Heidi Moneymaker, Maja Aro, Dayna Grant, Jessie Graff, and Indus Alelia.
Sunday boasts a special screening of a globally renowned, critically acclaimed documentary India's Daughter, which focuses on the rape crisis in India. Filmmaker/Activist Leslee Udwin will be present for a one hour Q & A after the film. Banned in India, the film is an eye opening examination of the worldwide crisis of physical and sexual abuse of women.
Tickets for the festival are now available for purchase at http://www.WomenKickAss.com.
"We're going to show you women kicking ass and taking names," said film festival Founder Melanie Wise. "We've got Hollywood stars, A-List stunt women, and women's MMA fighters. Everything that epitomizes our official hashtag, #womenkickass."
"It's the time the world has the chance to see a collection of female action films in one place at one time," remarks Co-Founder Sean Marlon Newcombe. "Female action films are popular, profitable and people are clamoring for them."
Press Contact: Info(at)ArtemisFilmFestival(dot)com
For More Info:
http://www.WomenKickAss.com
http://twitter.com/Artemis_ff
http://www.Facebook.com/ArtemisFilmFestival
Official Website: http://www.ArtemisFilmFestival.com
About the Artemis Women In Action Film Festival:
A first of its kind, inspired by the popularity of the genre, its longevity, and their love of film, Artemis Motion Pictures is producing the world's first film festival devoted exclusively to honoring female driven action films. Artemis has been attracting the attention and support of high profile influencers such as Paul Feig, Carrie Fisher, Rosie O'Donnell, Patricia Arquette, and Wynonna Judd all of whom have graciously helped boost the popularity of the official hashtag, #WomenKickAss.