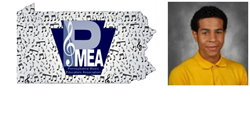 HERSHEY, Pa. (PRWEB) April 01, 2016
Milton Hershey School® junior Derek Proctor has been selected as a member of the 2016 Pennsylvania Music Educators Association (PMEA) All-State Choir, one of the highest honors and accomplishments available to high school musicians in the state.
Proctor will perform with the choir during the All-State Concert, the culminating event of the 2016 PMEA Conference, on Saturday, April 2, in the Great American Hall at the Hershey Lodge in Hershey.
The concert will feature a variety of musical selections, including "Hanacpachap Cussicuinin," considered the first piece of music published in the New World in Lima, Peru, circa 1631. It will be sung in the original language of the Inca Empire, Quechua. The ensemble also will give its world premiere performance of "Not Alone," a piece commissioned especially for the All-State Choir.
"Being selected as a member of the All-State Choir is a great honor," said MHS Visual and Performing Arts Director Edward Varner. "We are all extremely proud of Derek. He is a hard-working, dedicated and committed young man who is a shining example of someone who makes the most of the educational opportunities at Milton Hershey School."
Earlier this month, Proctor performed at the PMEA Region V Chorus Festival. He was one of six Tenor II singers selected to represent Region V which includes District 7 (Adams, Cumberland, Dauphin, Franklin, Lancaster, Lebanon, Perry, and York counties) as well as District 10 (Berks, Carbon, Lehigh, Monroe, Northampton, Pike and Schuylkill counties).
Milton Hershey School provides its students with a wide variety of classes, activities and performing groups through its Visual and Performing Arts program. The program offers pre-kindergarten through 12th grade instruction in visual art, dance, drama and music to stimulate students' creativity and nourish their minds.
More information about MHS and the Visual and Performing Arts program can be found at mhskids.org.
ABOUT MILTON HERSHEY SCHOOL
Milton Hershey School® is one of the world's best private schools, offering a top-notch education and positive home life to children in pre-kindergarten through 12th grade from families of lower income at no charge.