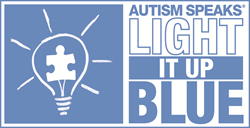 New York, N.Y. (PRWEB) April 01, 2016
PHOTOS AND VIDEO WILL BE AVAILABLE FOR DOWNLOAD:
Getty Images: click here
Additional landmark photos: click here
On the evening of April 2, World Autism Awareness Day, thousands of landmarks, businesses, houses of worship, and communities in more than 147 countries will join Autism Speaks to mark the seventh annual Light It Up Blue campaign to raise global awareness of autism spectrum disorder. Autism currently affects 1 in 68 children in the United States, according to newly released statistics from the Centers for Disease Control (CDC).
Autism Speaks is the world's leading autism science and advocacy organization. Its Light It Up Blue campaign marks the start of Autism Awareness Month in April. This year, more than 11,000 buildings are joining the campaign in a show of support for the 70 million people around the world who are affected by the disorder. World Autism Awareness Day was adopted by the United Nations in 2007 to focus on autism as a global health issue and to support, empower and enhance the well-being of people on the autism spectrum and their families. The goal is to increase knowledge about autism spectrum disorder and the importance of early diagnosis and early intervention.
"Autism knows no boundaries," said Angela Geiger, president and CEO of Autism Speaks. "The lights are a symbol of the global autism community as we develop strategies to meet the needs of our loved ones throughout their lives. And because those needs vary from person to person, family to family, and country to country, we need a comprehensive approach involving all the nations of the world."
This year, the Light It Up Blue campaign will get a high-profile kick-off one night early, on Friday, April 1, when the Empire State Building will be lit in blue. Dignitaries from around the world will also mark the occasion by gathering at the United Nations for a panel discussion on autism, hosted by Autism Speaks, the State of Qatar and the People's Republic of Bangladesh.
As darkness falls on April 2, thousands of buildings will be lit. Participating landmarks include: One World Trade Center and Rockefeller Center in New York City; CN Tower in Canada, the Panama Canal, the Suez Canal in Egypt, Taipei 101 in Taiwan, Burj Khalifa in Dubai, Shanghai Tower in China, Sydney Opera House in Australia, and the ancient city of Petra in Jordan.
Autism Awareness marches will take place throughout Tanzania, and parents in Ghana are raising awareness by sharing their families' stories in the media. Thousands of parents in Poland are coordinating awareness activities; organizations in Japan are lighting more than 260 buildings blue; and activities will take place throughout China. In New York City, the Department of Sanitation will for the second year display Light It Up Blue posters on 2,600 of its trucks and brooms.
Pledge to Light It Up Blue by visiting autismspeaks.org/liub. The website also provides creative ideas such as hosting blue-themed gatherings, wearing the Autism Speaks puzzle-piece pin, and turning entire neighborhoods blue. The site also accepts donations to fund Autism Speaks' efforts in research, awareness, advocacy, and adult and family services.
Partnerships
Council on Tall Buildings and Urban Habitat: Seven of the ten tallest buildings in the world will participate.
Bentall Kennedy: At least 129 buildings will join the campaign, thanks to the real estate investment and management company.
Alpha Xi Delta: The women's fraternity secured more than 500 buildings, including dorms, campus landmarks, alumnae homes, and Greek fraternity and sorority houses.
Penguin Random House: The publishing house's buildings in New York City will go blue, and the company will host an event to raise awareness and give away books about autism.
A list of Light It Up Blue corporate partners is available here. They include:
Major League Baseball: All 30 MLB clubs will raise autism awareness during one home game in April, or on another date during the regular season.
NBA: For the seventh consecutive year, the league and its teams will raise autism awareness through a variety of activities at arenas and games.
Activision: A new series of Skylanders SuperChargers toys are blue and white to reflect Autism Speaks' official colors. An employee giving campaign will be matched 100 percent by the CEO of Activision.
Dollar General: More than 12,400 retail locations will run an in-store donation campaign throughout April.
White Castle: White Castles in 12 states will run an in-store donation campaign, along with $3 donated to Autism Speaks for each Crave Case purchase made online.
The Home Depot: The retailer will stock Philips blue light bulbs throughout April.
Philips: The lighting company manufactured and donated 7,000 bulbs to Autism Speaks for use in the awareness campaign and will make a $50,000 donation.
GameStop: Customers at the company's GameStop, Spring Mobile AT&T, Cricket Wireless and Simply Mac retail stores can donate $1, $5 or $10 to Autism Speaks at point-of-purchase. Customers will also be able to purchase online at GameStop.com a custom Autism Awareness Month T-shirt throughout April, with 100 percent of the proceeds benefiting Autism Speaks' family services and science initiatives.
Lindt Chocolates: Proceeds from the celebrity-signed Lindt GOLD BUNNY Online Auction benefited Autism Speaks. In addition, 10 cents of every Lindt GOLD BUNNY purchased in stores throughout April will be donated to Autism Speaks.
Village Super Markets and ShopRite Stores: In select ShopRites throughout New York and New Jersey, customers can support Autism Speaks with special blue-themed products and at-register donations through April 3.
Modell's Sporting Goods: Stores will run an in-store dollar donation campaign benefiting Autism Speaks throughout April.
Zales: Seven Autism Speaks beads will be sold online and in stores throughout the U.S. and Canada, with $10 of every sale donated to Autism Speaks.
Blue Man Group: As part of a year-long partnership with Autism Speaks, Blue Man Group will donate a minimum of $25,000 to Autism Speaks and will offer several sensory-friendly performances.
Bob's Discount Furniture: In more than 60 stores in a dozen states, proceeds from in-store sales of "Café Collections" will be donated to Autism Speaks and matched by Bob's Foundation.
French's Mustard: Limited edition blue bottles of the famous yellow mustard will be placed in restaurants. When scanned, each bottle will generate a $1 donation to Autism Speaks, up to $100,000.
Dine Out for Autism: Visit autismspeaks.org/dineout to find a list of restaurant partners across the U.S. who will host awareness and fundraising programs.
About Autism
Autism is a general term used to describe a group of complex developmental brain disorders – autism spectrum disorders – caused by a combination of genes and environmental influences. These disorders are characterized, in varying degrees, by communication difficulties, social and behavioral challenges, and repetitive behaviors. An estimated 1 in 68 children in the U.S. is on the autism spectrum.
About World Autism Awareness Day
World Autism Awareness Day (WAAD), marked annually on April 2, was adopted by the United Nations in 2007 to shine a light on autism as a growing global health issue. WAAD activities increase knowledge about autism spectrum disorder and the importance of early diagnosis and early intervention. Additionally, WAAD celebrates the unique talents and skills of people on the autism spectrum and encourages communities around the globe to empower families and enhance the well-being of people with developmental disabilities.
About Autism Speaks
Autism Speaks is the world's leading autism science and advocacy organization. It is dedicated to funding research into the causes, prevention, treatments and a cure for autism; increasing awareness of autism spectrum disorders; and advocating for the needs of individuals with autism and their families. Autism Speaks was founded in February 2005 by Suzanne and Bob Wright, the grandparents of a child with autism. Since its inception, Autism Speaks has committed more than $570 million to its mission, the majority in science and medical research. On the global front, Autism Speaks has established partnerships in more than 70 countries on five continents to foster international research, services and awareness. To learn more about Autism Speaks, please visit AutismSpeaks.org.