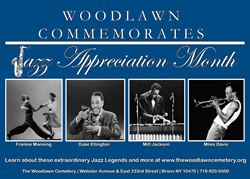 Bronx, NY (PRWEB) April 01, 2016
Woodlawn Cemetery is the final resting place of some of the world's most notable jazz artists, and during April's Jazz Appreciation Month, consider it to be the first step to exploring the rich heritage of jazz.
A visit to Woodlawn's "Jazz Corner" will not disappoint. This is where the maestro, Duke Ellington, is at rest. Nearby, Miles Davis is memorialized in a sarcophagus that is emblazoned with a trumpet floating through the clouds, inspired by his signature song "Solar." The trumpet points down, because it is silenced while, at the same time, reflecting Davis' inimitable style.
High on the neighboring hill etched in black granite is an image of Jackie McLean playing the saxophone. A monument to swing dancer Frankie Manning performing the Lindy Hop keeps company with Max Roach, bebop drummer, and Lionel Hampton, "King of the Vibes."
Roach's headstone is inscribed with the epitaph, "your hands shimmering on the legs of rain," written by poet Sonja Sanchez.
Other jazz legacy notables buried at Woodlawn Cemetery include Roy Campbell, Jr., Jean-Baptiste "Illinois" Jacquet, Florence Mills, Harry Herbert Pace, Clark Terry, Johnny Windhurst and so many more jazz pioneers. King Oliver, W.C. Handy and members of the James Reese Europe band also chose Woodlawn in their time of need.
Many of the sculptures, marble monuments and granite grave markers that grace the grounds of Woodlawn Cemetery commemorate the lives of some of the great performers of the era, such as Irene and Vernon Castle and Bert Williams.
As a part of the national celebration of Jazz Appreciation Month, the cemetery offers programs, performances and tours to pay tribute to those who changed lives and taught people how to swing.
Visitors can schedule private tours for groups by contacting Barbara Selesky at 718-408-5652. Choose the experience of an intimate, private tour via mobile app (available on IoS or Android). Find out more at http://www.thewoodlawncemetery.org/
About the Company:
Founded in 1863 and located in the Bronx, Woodlawn Cemetery is more than 150 years old. Still an active cemetery with new development ongoing, it is one of the largest cemeteries in New York City and is a designated National Historic Landmark. Woodlawn Cemetery is the final resting place of many persons of note. Celebrated lot owners include artists, religious leaders, writers, business moguls, civic leaders, entertainers, diplomats, jazz musicians, suffragists and more.