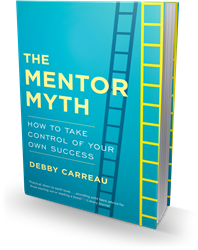 The truth is: you are in control of your success.
Boston, MA (PRWEB) April 19, 2016
Bibliomotion is thrilled to announce the launch of THE MENTOR MYTH: How to Take Control of Your Own Success by Debby Carreau (April 19, 2016).
"Find a mentor." This is one of the most common pieces of advice given to young professionals at the start of their careers. Today, a lack of formal mentorship is seen as a serious, career-inhibiting problem. While there is undoubtedly value in finding an older, more experienced person to help guide and shape the next generation of leaders, the importance of mentorship has become overused and overblown.
Workplace transformation expert Debby Carreau argues that aspiring professionals already possess the tools they need take control of their own careers. The key to improving employee engagement and productivity is to flip the employee's mindset from mentorship to sponsorship. While it is still important to seek advice and guidance from senior employees, we must place less importance on looking to external support (mentors) to take the reigns on career success and place more emphasis on personal accountability.
In THE MENTOR MYTH: How to Take Control of Your Own Success (Bibliomotion, Inc.; Hardcover; April 19, 2016) Carreau draws from two decades of experience as a leader in human resources to guide individuals into the driver's seat of their own success.
"The biggest risk of mentorship is that it gives people the impression that the outcome of their career is dependent on the actions and input of others," Carreau writes. "The truth is: you are in control of your success."
THE MENTOR MYTH provides comprehensive and easy-to-implement steps that will help ambitious young professionals develop a skillset independent of a mentor or sponsor. These include creating a personal roadmap, managing time wisely, building a personal brand, and more.
In Chapter 5, Carreau discusses the four foundational elements most instrumental in a person's success, and what young professionals can do to master them without the guidance of a mentor:
-- Confidence: Instead of waiting for opportunities to build your confidence, make confidence building an intentional part of your day. Actively pursue confidence by setting yourself one challenge a day (e.g., send a networking e-mail to a role model who both inspires and intimidates you). The more opportunities you have to build confidence, the more confidence you will gain.
-- Communication: Having your message understood is critical, and over-communication is better than minimal communication. Update your manager or client on your progress more often than you think is necessary; they will tell you if it is too much. Find low-impact ways to ensure the recipient has understood your message, (e.g., send bulleted e-mails with the agreed-upon points and ask for a simple "yes" or "no" response).
-- Commitment: Commitment means being all in, being excited about becoming part of something larger than yourself. You do not owe everything to the company that employs you—but the company does pay you, and being committed to its mission makes for a happier partnership. Know when to push for a promotion or raise, but also know when to let your personal needs take a backseat to the team.
-- Competence: Think about your day from start to finish. What tasks do you routinely perform and what skills do you need to execute them perfectly? On a scale of one to ten, how would you rate yourself on each of those skills? Many people are so focused on building their future that they forget to assess whether they have the tools to succeed in the present. You take control by actively seeking your manager's feedback on areas for improvement.
Whether you are designing your undergraduate education, starting your first job, starting a business, or reentering the workforce after an absence, THE MENTOR MYTH provides a framework to help aspiring professionals navigate their career plan by relying their own strengths, capabilities, and visions of success – without the help of a mentor.
"You have the potential to do something amazing—change the world, break the glass ceiling in your industry, or live a life aligned with your values, spending time on the things you really care about," says Carreau. "This genius doesn't rest with a mentor or anyone else; it is your job to find it and use it to make the most of your career."
Recognized for the past three years as one of Canada's Most Powerful Women™, Debby Carreau is a proven leader, helping businesses deliver superior results by making better decisions about human capital. As CEO and Founder of Inspired HR, she uses her experience as a senior leader in Operations and Human Resource Management to advise businesses on optimizing the workplace experience and becoming an employer of choice. She helps businesses implement strategies to get the most out of their most valuable resource: people. Through her firm, Debby provides Human Resources support for over 200,000 employees across North America, cutting across a variety of industries such as construction, real estate development, hospitality, health and wellness, IT services, marketing and communications, insurance, large not-for-profits, and many others.
Debby is often asked to speak and write about workplace issues and developing talent for organizations, and is frequently interviewed regarding career development, women in the workplace, and creating the best work environments. Debby's recent coverage includes Harvard Business Review, the Wall Street Journal, Bloomberg Businessweek, CNBC, MSNBC, and BBC. She consults CEOs globally about the importance of human capital for business results and is a master moderator and platform partner for Sheryl Sandberg's Lean In Foundation. She holds an MBA and a professional designation in Human Resources.
AN INTERVIEW WITH DEBBY CARREAU
Q: What prompted you to write this book?
A: Eighty percent of people are dissatisfied with their jobs today (Deloitte Shift index survey) and as adults we spend more than half of our waking hours working, so this is a big challenge in our lives. I have always been passionate about helping people thrive in their careers. Some of the most common things I hear from workers who are frustrated are "why isn't anyone developing me?" or " why didn't I get promoted" and the answer most often given to people is "find a mentor," as though this is the golden ticket to an extraordinary career. The reality is, a mentor will not get you promoted or more money. In order to succeed and enjoy your work you need to take personal accountability and develop a strategic career path rather than letting someone else navigate it for you. It is critical to demonstrate personal initiative at work and set challenging goals that will foster personal and professional development.
Q: How do you distinguish between mentorship and sponsorship? Why is one more valuable to young professionals than the other?
A: There is a lot of information out there about sponsors and mentors. Both are great tools in your career toolbox and are complimentary to one another, not an "either-or" proposition. Think of sponsors as your brand ambassadors who will speak positively about you and vouch for you to people who matter for your career development and progression. Think of mentors as teachers or coaches who can help you develop a specific skillset or enrich existing skills. Ideally you have both in your life but if I had to choose one to be more significant, sponsors help more.
Q: What are some of the key reasons mentorship programs no longer work?
A: It is a time-honored tradition in the business world for those who have prospered in a role to share the secrets of that success with new and promising employees.
Mentorships are only truly successful if there is a sufficient period for the relationship to develop. The dynamic of this relationship are that both parties are trusted friends, as well as mutually respected professionals. If the relationship does not have these two elements, it will accomplish little.
Mentorships ought to be a productive relationship. If the mentor identifies that the mentee could prosper under their guidance, then the task will be a pleasure. If there is ultimately no connection, the relationship will seem more like instruction.
The intention of mentorships is to help mentees prosper by providing them with advice on how to deal with certain situations. However, if the relationship begins to stray from this intention, the original purpose is defeated.
There can come a time where a mentor simply runs out of helpful advice to provide, necessitating a change. The mentor might have established himself in this area previously, but without ongoing learning, that knowledge is outdated, making the advice similarly obsolete.
The advice offered by the mentor educates and encourages the mentee so that they eventually tackle decisions using their own accumulated knowledge. If the pupil is merely doing everything the mentor says, without learning and understanding the reasoning behind that guidance, it can stunt the individual's professional growth. Ultimately, the pupil must make the final decision.
Q: In Chapter 1, you introduce your Career Exploration Tool. How can young professionals use it as a framework to map out their career path?
A: I wish I were able to go back and give my twenty-year-old self some practical career advice. While I ended up on a career trajectory I am proud of, I could have gotten there much earlier if I'd paid more attention to where I was going. After two decades in human resources, I have a much more nuanced perspective of what it takes to make a well-considered career plan. When coaching people on their careers, I focus on six elements: passion, lifestyle, values, economics, skills, and demand. Thinking strategically about each of these elements lets you create a framework for a solid career map. Regardless of where you are in your career (university, new grad, or seasoned veteran of the workforce), this tool is relevant. We can all make adjustments to either refine our vision, if we like where we are going, or radically change our plan, if we are unhappy. This tool will help readers reflect on their professional journey from every angle, and it is worth revisiting often as you navigate your way to achieving your professional goals.
Q: You write that young professionals already possess the necessary tools to take control of their own careers. What steps can they take to recognize these skills to embrace accountability, deal with failure, and more, without the guidance of a mentor?
A: I encourage young professionals to work through their career vision, write down any thoughts—even half-formed ones—they might have about what they want to be on their résumé or the kinds of projects they want to work on. By constantly evaluating their career goals and path, they will keep their road map fresh and relevant. Too many people end up hitting glass ceilings or working at jobs they don't like because they did not take the time to plan where they were headed. The key here is that the fix is within the individual's control. Most importantly, know what success means to you. Be future oriented and thoughtful about your career goals. Adapt to changing circumstances without losing sight of what it is you really want.
In the absence of a mentor, the smartest thing a person can do is look at the career journeys of their role models and pick and choose the pieces that works best for them. Develop a strategy based on what worked for them—and learn from what didn't work. Their mistakes will be as valuable as their successes.
Each professional journey will have unique elements, but emulating a person's strategy can be a great plan. Great organizations like Whole Foods talk openly about embracing this strategy of replicating others for their growth as an organization. Innovation is important, but reinventing the wheel is a waste of time. Your role models' journeys and worldviews are your first and best source of wisdom for your own career.
Q: You also write that organizations that have not shifted their talent management strategy are at great economic risk. What advice can you offer to leaders and organizations seeking to reevaluate their mentorship programs and strengthen their bottom line?
A: Mentors are over-utilized, under-trained and, as studies show, under-deliver. From an employer's perspective, assigning a mentor is often a quick fix to a larger problem. From an employee's perspective, a lack of formal mentorship is seen as a serious hindrance to a successful career. Unfortunately, most talent management programs are irrelevant to today's business challenges. Budget cuts, shifting demographics, disruptive technologies, and economic uncertainty have changed the playing field and what's required of employees to thrive. It has become evident that a new normal in business is emerging and essentially what is needed is a framework to drive personal accountability and become your own "talent agent."
There is a growing need for organizations to use alternate career tools to retain and engage employees, and to develop them to be the future leaders of the business. As the global economy improves and the war for talent heats up again, top employers are garnering the attention of your employees. Without a competitive and forward thinking approach to retention, businesses may lose their top talent to their competitors.
PRAISE FOR THE MENTOR MYTH
"Practical, down-to-earth book…providing solid basic advice for those starting out or needing a boost." – Library Journal
"This book is an important resource for anyone trying to figure out how to have a fulfilling personal and professional life. Debby Carreau's unique perspective as a human resource consultant helps the reader think more clearly about how to create a career plan, manage their time, and get results." – Kim Keating, board member of Lean In
"This book proves what I've always believed about mentoring—that it can be beneficial, but by no means does it guarantee success. Taking control of your own career—from following your passions to finding your own role models to emulate to understanding risk and the rewards of failure—is essential for anyone looking to make waves in the business world. The Mentor Myth shows you how. I highly recommend it." – W. Brett Wilson, entrepreneur, philanthropist, and three-season panelist on CBC's "Dragons' Den"
"Read this book and learn how to own your career path. Debby Carreau delivers a clear, easy-to-follow guide to ensuring your success!" – Bernie Tanenbaum, managing partner of Lodestone Global
"A powerful tool for anyone wanting to take control of their own destiny and craft their journey to success. Debby will put you back in the driver's seat by taking responsibility for your own actions, emphasizing that mentorship is not what makes the greatest impact—you do." – Jennifer Carlson, founder of Baby Gourmet
Bibliomotion is a book publishing house designed for the new publishing landscape. While many publishers work to retrofit old processes for new realities, Bibliomotion was founded by book-industry veterans who believe the best approach is a fresh one – one that focuses on empowering authors and serving readers above all else. Moving away from the top-down model that has dominated the publishing process for years, we give each member of the team – including the author – a seat at the table from the very beginning and in doing so, work side-by-side to launch and sell the best content possible, making it available in a variety of forms.