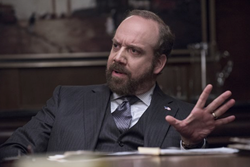 "Our pin remains a symbol of American pride."
(PRWEB) April 06, 2016
If you've been watching Showtime's brand new compulsively watchable drama series Billions, you've more than likely noticed that alpha male Chuck Rhoades (played by Paul Giamatti) has a law-and-order sense of style. Upon each specially tailored suit Rhoades wears he dons American pride and patriotism with an American flag lapel pin comparative to PinMart's.
Short of wearing a full on stars and stripes suit, the American flag lapel pin is the quickest sartorial way for a politician like Rhoades to demonstrate his patriotism. The derivation of the American flag lapel pin is vague, however, it is associated with the history of the American flag as a frequently used symbol. Prior to the Civil War era few possessed or even flew their own American flag and was limited to only military and federal facilities. Since then, American flag imagery has been associated with moments of conflict or crisis. PinMart's Director Steve Geyer states "For PinMart the September 11th attacks in 2001 had a significant impact on PinMart more specifically in relation to the immediate desire to display one's pride and solidarity for our country in such dire times by wearing our American flag pins. PinMart's goal was to not profit from this yet to support and unite the American spirit when it was needed most. My route to work following the days after the attacks changed for now each home and business was proudly flying an American flag. Now fifteen years later our pin remains a symbol of American pride."
The donning of the American flag pin is a sacred ritual, a way for politicians to demonstrate their love for America that might otherwise be in doubt. The American flag represents a living country and is itself considered a living thing. Therefore, the flag lapel pin being a replica, should be worn on the left lapel near the heart. The American flag lapel pin is by far the most popular lapel pin across the United States. Wear the Stars and Stripes with pride and glory!
About PinMart: PinMart, Inc. is a privately held company located in Elk Grove Village Illinois, a suburb of Chicago, specializing in the design and manufacture of stock and custom emblems, custom lapel pins, and recognition and awareness products. PinMart sells products via its online store and offers custom design and manufacturing. PinMart has taken advantage of its well positioned internet presence and now boasts a client list that includes over 300 of the Fortune 500 companies.