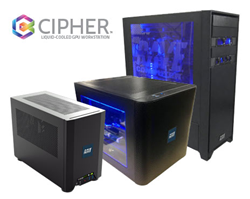 We found that the K80 would run in GPU boost and never push the thermal limits resulting in a 55% increase in GPU performance.
Sterling Heights, MI (PRWEB) April 03, 2016
Rave Computer has recently introduced three new systems to their high-performance workstation line. The Cipher Series of computers follows on the success of their Rave's original Cipher launched in December 2015, and brings its GPU technology and improved 2-phase liquid-cooling capabilities to the desktop. These systems are optimized to run super high-end applications based on NVIDIA's® CUDA® technology, widely utilized in research, data visualization, information rendering, and massive simulation environments.
"At last year's Supercomputing conference, we saw an incredible amount of interest in our liquid-cooled TESLA® K80 product," said Tony Scicluna, Vice President of Sales for Rave. "The Cipher allows researchers and developers to test their applications in a true HPC environment without monopolizing a server farm. Technically, you're prototyping algorithms and incrementally developing and testing CUDA kernels at your desk prior to delivering a final computational run on a server farm. It ends up saving everyone significant time and money. Smaller businesses and institutions will also benefit tremendously from this technology, where now you can utilize the incredible power of the K80 instead of a less powerful K20 or K40, and still have a computer that doesn't require a server room to keep it cool. By leveraging the liquid-cooling capabilities on Cipher's GPU's and CPU, it runs nearly silent, making it a perfect desktop super-workstation."
The Rave Cipher comes in three variations appropriately named "R10 (One K80)," "R20 (Two K80's)," and "R40 (Four K80's)," based on the number of GPU's installed in each system. Each model integrates Intel® Xeon® processors, with up to 18 cores and allows for an option to swap in an NVIDIA® Quadro® K6000 video card for high-resolution video output of data.
"This liquid cooling project provided an additional upside that we did not initially predict," added Karl Rosenberger, Director of Product Development for Rave Computer "Due to the much lower operating temperatures, we found that the K80 would run in GPU boost and never push the thermal limits resulting in a 55% increase in GPU performance. Each one of us here at Rave contributed to the final product, which should be a home run for developers, researches and application developers. When you leverage this much raw processing power, increased GPU performance, silent running, and energy savings achieved by liquid-cooling, you have a real winner of a system."
For more information about Rave Computer or the Cipher, you can visit their website: http://www.rave.com or http://www.rave.com/cipher-series