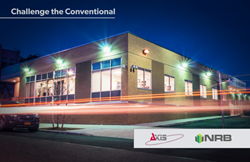 "Time was of the essence. We involved NRB early in the design process and the results were as we expected—a beautiful new facility delivered on time and on budget."- John Buongiorno, Director, Axis Modular Division.
Grimsby, Ontario and New Holland, PA (PRWEB) April 01, 2016
The health center that was celebrated last July by thousands of Coney Islanders who had spent two and a half years choosing between a mobile van and a hospital to meet their day-to-day healthcare needs has been toasted again.
The Ida G. Israel Health Center, which replaces a building destroyed by Superstorm Sandy in 2012, earned first place in the Permanent Healthcare category at the World of Modular conference in March.
The clinic was built off site by Pennsylvania-based modular manufacturing company, NRB. It meets stringent Federal Emergency Management Agency standards, ensuring it can weather any future storm, and was installed onsite in less than 30 hours. Watch a time lapse video of building installation at youtube.com/watch?v=Nu52gKI5LZo (the video also won an award).
"This medical building was critically needed. Time was of the essence," says John Buongiorno, director of the modular division of Axis Construction, the general contractor on the project. "We involved NRB early in the design process and the results were as we expected—a beautiful new facility delivered on time and on budget."
Permanent modular construction is a process, not a product. By building a project off-site, owners can open their doors up to 50 per cent sooner, with improved quality, less waste and better site safety and security, all without compromise to architectural excellence and design sophistication.
NRB also won first place for the BASIS Independent school in Brooklyn. The visually stunning six story building, designed by Partners For Architecture of Stamford, CT, features complex angles, glass curtain walls, open concept interiors and an outdoor terrace overhung by cantilevered upper stories. The top five levels, or about 70 per cent of this school was built off site by NRB—a choice motivated by the site, which is on a brownfield and flood plain in a dense urban neighbourhood.
Another first place win for NRB was a combination convenience store and A&W owned by Suncor and built outside Toronto. The building is bright, beautiful and well branded, but speed of construction made the project a real winner. "The priority of anyone in retail is generating revenue faster," says NRB's vice president of sales and marketing, Laurie Robert. "When you use off-site construction there's a wow factor. Suddenly there's a building where yesterday there was nothing. It's all about time to market."
The goal of the Modular Building Institute's Awards of Distinction is to showcase excellence in off-site construction, including design, technical innovation, sustainability and cost effectiveness. Award judges represent a cross-section of the construction industry, from academics and architects to contractors and green energy experts. NRB has won every year the awards have been held.
For high-resolution project photographs, contact NRB.
About NRB
NRB is an off-site construction company that manufactures modular buildings for commercial, institutional, industrial and multi-family residential clients in Canada and the U.S. We're in the business of off-site construction, but we're also in the business of changing minds. We want people to think differently about construction, and that's where our entrepreneurial spirit and can-do attitude come in. Tell us about a project and we almost never say 'no.' We'll figure out how to deliver it with all the advantages of modular construction while staying true to the original design vision. For more information, visit nrb-inc.com.