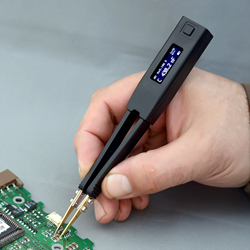 Automatic LED Tester and Bluetooth connected LCR Meter are available in the Smart Tweezers product line.
Richmond Hill, Canada (PRWEB) April 04, 2016
Advance Devices Inc. is introducing Smart Tweezers® ST5S-BT LCR Meter with integrated Bluetooth® and Smart Tweezers® ST5L Iskra Adaptive LED tester.
Smart Tweezers® ST5S-BT LCR Meter is an upgrade of the flagship model ST5S. The upgrade allows transmitting measurement readings for remote viewing.
Smart Tweezers® ST5L Iskra Adaptive LED tester is a specialized solution for verification and testing of SMD and throughhole LEDs with forward current up to 30 mA.
Smart Tweezers ST5S LCR Meter identifies both marked and unmarked SMD-components with easy probing of all types of passive SMD and through-hole devices. The instrument measures capacitance, inductance and resistance with speed and precision along with secondary parameters such as capacitor ESR (ESR Meter), Q (quality factor), D (dissipation factor) and Z(impedance).
Model ST5S features:

Integrated LCR Meter with 0.2% base accuracy
Swiss-made precise test leads
Automated component identification
Automated test range selection
Manual overrides for C, R, L, Z and ESR modes
Diode Polarity/Short Testing
High visibility OLED display
Bluetooth® connectivity is an additional feature which allows to visualize and log measurement results and parameters in real time. This will make this device even more efficient.
Initially, the Bluetooth® connectivity will be supported by a NI VISA instrument driver in the NI LabView® environment.
In the nearest future, Smart Tweezers® ST5S-BT will also have Android, iOS and Windows companion apps.
Smart Tweezers ST5L LED Tester is now available for ordering. Advance Devices Inc. has continued its traditions and manufactured a new product which is exactly according to the demands of the users.
Smart Tweezers® ST5L Iskra Adaptive LED Tester is specially designed for testing and verification of SMD and throughhole LEDs. Users can use it to test and verify various types of LEDs with forward current up to 30mA. It can still test and check an LED even if it is already placed on the board.
A unique, safe adaptive test algorithm performs automatic LED polarity detection. This device also lights the LED at the preset test current value and at the set current pulse duration after the LED polarity detection. ST5L features forward drop voltage display, LED visual brightness verification.
Smart Tweezers® ST5L is made up of two high-quality gold plated tweezers and a digital LED tester. It can be easily operated using one hand with OLED Display, and integrated Li-Ion battery. Last but not the least, its default settings can be changed easily by using the joystick type control.
The Smart Tweezers® product line is available direct at the Smart Tweezers Store, by contacting the sales department and on Amazon
For further information or queries, please contact
Advance Devices, Inc.
RPO Harding, PO Box 32043,
Richmond Hill, ON L4C9S3
Canada
Phone: 1 800 453-5315
Fax: +1 416 352-5400
Smart Tweezers is a registered trademark of Advance Devices, Inc.
All other trademarks are the property of their respective owners.