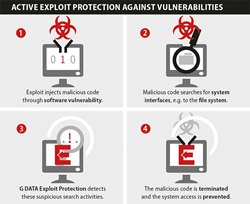 (PRWEB) April 04, 2016
Global security firm, G DATA, has launched its version 14 business solution which now integrates Exploit Protection. With almost 3,000 software security holes discovered in the first half of 2015 alone, the need is clearly there for a tool that can quickly and effectively protect against these vulnerabilities.
The new technology reliably protects clients in the corporate network from security holes in installed programs. With the optional Network Monitoring module, G DATA is enhancing the functional scope of its business solutions. IT managers can use individually adjustable metrics to monitor the current status of hardware, software and the network at a glance.
The misuse of software security holes by so-called exploits is an effective method for cyber criminals to infect computers and networks with malware. Not every security hole is discovered and closed immediately, which leaves the attackers ample time to exploit them. With Exploit Protection, all current G DATA business solutions include a new technology that provides systematic, reliable protection against this dangerous attack vector. Exploit Protection does so by closing the holes in software until the provider publishes a security update, which can then be rolled out via G DATA Patch Management.
Preventing downtime with Network Monitoring
G DATA offers Network Monitoring as an optional module. Administrators can use it to monitor a wide range of devices and services, from printers to servers. Its customizable settings help prevent potential disruptions.
Central administration of Mac and Linux clients
The new Business Generation 14 now enables IT managers to use the G DATA Administrator to centrally manage Mac clients in the corporate network as well. Furthermore, the new security solutions support even more Linux distributions.
Effective protection against spam email
The G DATA Mail Security add-on module in Business Version 14 optionally offers centralized email protection with virus and spam filters for all mail servers, including plug-ins for MS Exchange 2007 to 2016 and support for Postfix and Sendmail on Linux servers. With the Web Security Gateway module, companies can enhance their Squid-based Web Gateway with comprehensive protection against viruses and phishing.
The G DATA version 14 network solutions at a glance:
G DATA AntiVirus Business
The network solution protects company networks using proven, multiple award-winning antivirus technology. G DATA AntiVirus Business is controlled via the central management console and automatically protects all servers, workstations, notebooks and Android and iOS smartphones – without slowing them down.
G DATA Client Security Business
G DATA Client Security Business offers the best possible all-around protection for company data of any type. The integrated active hybrid protection uses both signature-based and proactive security technologies, and combines them into a bulletproof barrier against cyber attacks, malware, sabotage and data theft. Furthermore, Client Security Business includes a firewall and antispam module.
G DATA Endpoint Protection Business
G DATA Endpoint Protection Business protects companies in multiple ways at once. Active hybrid protection secures IT systems reliably against all online risks and responds to new threats proactively. In addition to malware protection, an antispam module and the integrated Exploit Protection, the network solution also has a Policy Manager. Administrators can use this to guarantee adherence to their guidelines relating to Internet, device and software usage.
G DATA Managed Endpoint Security
Companies that do not have a separate IT department need not compromise when it comes to IT security, thanks to G DATA Managed Endpoint Security. G DATA Managed Endpoint Security is an easy-to-use remote administration module that enables IT service providers to administer customers' networks without needing to be there on site. Protection of business customers is combined with the convenience of managed services in one all-around, worry-free package for partners and their customers.
The most important features at a glance

Comprehensive, resource-saving protection against online risks thanks to the integrated G DATA CloseGap technology
Enhanced G DATA Mobile Device Management: Integration of all Android and iOS devices as fully-fledged clients within the protective shield
Protection of clients against security holes in installed software with Exploit Protection
G DATA BankGuard module for secure online payment transactions
USB Keyboard Guard provides clients with reliable protection against malicious USB devices
Integrated protection against spam and infected email
Full functionality even outside of the network, e.g. for external sales force laptops and other mobile devices
A clear dashboard that displays all relevant information in a user-friendly way
Software and hardware directories for all clients, for easier administration by displaying a detailed inventory
Remote administration possible from anywhere, including via a web interface
A surf filter blocks any websites that are not associated with everyday work
Optional: Mail Security with mail server-independent, central email protection, including virus and spam filters
Optional: Network Monitoring for monitoring the entire infrastructure, from printers to servers
Optional: powerful Patch Management module to close software security holes
About G DATA
IT security was invented in Germany: G DATA Software AG is the antivirus pioneer. It was more than 28 years ago that the company, founded in Bochum in 1985, developed the first program to combat computer viruses. These days, G DATA is one of the world's leading providers of IT security solutions.
Test results prove that IT security "Made in Germany" offers Internet users the best possible protection. Stiftung Warentest has been testing Internet security products since 2005. In all seven tests performed between 2005 and 2014, G DATA achieved the best virus detection rate. In comparative tests by AV-TEST, G DATA regularly demonstrates the best results in the detection of computer malware. Internationally, G DATA INTERNET SECURITY has also been awarded best Internet security package by independent consumer magazines – in countries such as Australia, Austria, Belgium, France, Italy, the Netherlands, Spain and the USA.
The product range comprises security solutions for end customers as well as medium to large-sized enterprises. G DATA security solutions are available in more than 90 countries worldwide.
For more information about the company and G DATA security solutions, see http://www.gdata-software.com.