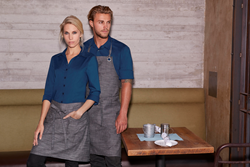 Our Urban Collection of waitstaff shirt and apron options was the impetus to this newly expanded supply agreement.
Poway, CA (PRWEB) April 04, 2016
Chef Works, Inc., a global culinary and hospitality uniform apparel brand and Avendra, a North American supply chain and procurement solutions company, have secured a four year extension and expansion for the supply of culinary uniforms and waitstaff apparel to all Avendra approved clients. This revised contract will take the Chef Works and Avendra partnership into 2019. Chef Works has been the preferred culinary uniform supplier to all of Avendra members since 2005 and has performed above expectations for all proprietary brands.
Because of exceptional service and pricing to Avendra, Chef Works has been awarded the ability to expand its offering to all Avendra members. This expansion includes waitstaff uniforms and aprons. Additionally, Chef Works recently expanded its corporate territory with the acquisition of Chef Works Canada as part of its corporate umbrella.
"Our Urban Collection of waitstaff shirt and apron options was the impetus to this newly expanded supply agreement. We will continue to provide all of the standard waitstaff options, including traditional black and white looks, but 'Urban' has really upgraded the offering to include today's trendy, fresh looks," says Neil Gross, CEO of Chef Works, Inc.
New fabrics including canvas denim (the Rockford Collection) and waxed denim (the Boulder Collection) along with chic details and pockets highlight the apron options, while today's shirt fabrics, like Chambray for men and women, feature waitstaff-specific functional pockets and roll up sleeve tabs.
Chef Works will continue to build upon its world-famous line of culinary and hospitality uniforms and apparel. "We changed the industry with our high-end and extremely durable fabrics and by bringing functionality to chef's clothing when we started. Our 2016 line is amazing and many of our new products are already a big hit," says Gross. "We will continue to maintain fully stocked levels of inventory in our distribution center. Our customers realize that having a great selection of products, ready-to-ship and being able to embroider or alter everything in-house is a critical key to our success. Our dedication to delivering exceptional service will always be our primary driving force."
About Chef Works
Chef Works is a worldwide brand offering solutions-based, award-winning uniform designs to the culinary and hospitality industries. As an industry leader, Chef Works combines innovative product design with branded uniform solutions, keeping us at the forefront of the marketplace in the ever-evolving uniform world.
Chef Works, Inc. distributes to all market channels in the USA from our hi-tech Distribution Center in Poway, CA, complete with onsite embroidery and alterations departments. The solution-based programs are suited to our diverse customer base of companies of all sizes with varying demands.
Our high standard of customer service is enhanced by the support of an advanced technology platform in uniform supply management that supports brand continuity, online ordering (including branded customer portals), EDI compliance, personalized reporting, budget coordination and uniform design plus much more.
You can currently find the Chef Works brand in over 65 countries with distribution expanding in to new territories each year. We remain resolute in our mission to pair advanced technology solutions with the high-quality products to ensure complete satisfaction that exceeds customer expectations. For more information, visit http://www.chefworks.com.