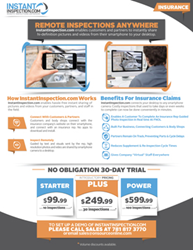 "We expect InstantInspection.com will have a big impact on the communication between appraisers and auto repair facilities and for the communications between policyholders and insurance companies for FNOL" Tim Schneider, CEO OnSource
Braintree, MA (PRWEB) April 04, 2016
OnSource the company that brought you smartphone-enabled photo inspections and a network of fast, effective field inspectors introduces their newest product, InstantInspection.com. Insurance companies can now get fast, fair and efficient claims and underwriting photo inspections without leaving their desk.
Video - https://vimeo.com/160185221
How InstantInspection.com Works
InstantInspection.com allows customers and body shops to connect with insurers with the click of a button. From the insurance company's website, a customer or body shop clicks to connect with an insurance representative. Through the website's chat feature, the rep requests connectivity to the smartphone camera in order to conduct a photo inspection. Guided by text and visuals sent by the insurance rep, high resolution photos and video are shared via the customer's smartphone camera directly to the rep's desktop.
Benefits for Insurance Claims
InstantInspection.com enables insurance representatives to connect their desktop to a smartphone camera in order to speed up the claims process. Costly photo inspections that used to take days or even weeks to complete can now be done conveniently, in minutes.

Enables photo inspections at FNOL
Gives Company "Virtual" Staff Everywhere
Reduces Supplement & Re-Inspection Cycle Times
Partners Remain on Track, Preventing Parts and Cycle Delays
Streamlines Communication between Appraisers and Repair Providers
Built For Business, Connecting Appraisers with Customers & Body Shops
Enables a Customer to Complete an Appraiser Guided Photo Inspection in Real Time
Connecting Instantly with Body Shops
InstantInspection.com also allows for timely communication between body shops and insurers should supplemental repairs be discovered and require inspection. Rather than waiting for an appraiser to arrive on the scene, the body shop can complete the inspection via smart phone and have a decision in minutes. Better communication means decreased cycle time as body shops remain on track and on schedule.
InstantInspection.com Cuts Days Off Cycle Times
InstantInspection.com enables photo inspections to be completed at FNOL. Policyholders can open a real-time chat session from their mobile smartphone and conduct photo inspections via InstantInspection.com. Photos are available for estimate writing within minutes of FNOL.
Tim Schneider, CEO of OnSource said, "Our existing self-serve apps have increased customer satisfaction and cycle time for our insurance clients. We expect InstantInspection.com will have a big impact on the communication between appraisers and auto repair facilities and for the communications between policyholders and insurance companies for FNOL."
Press & Customer Demo Event - Wednesday April 6th 2:00pm
Register for the press and customer demo on Wednesday April 6th 2:00 PM EST.
InstantInspection.com Briefing Sign Up: https://attendee.gotowebinar.com/register/8200387890421410316
About OnSource
OnSource enables insurance companies to get fast, fair and efficient claims and underwriting photo inspections through intuitive smartphone apps and mobile websites that take the guesswork out of insurance photography. Policyholders and claimants can use self-inspection apps, InstantInspection.com's chat website, or field inspectors to capture quality photo inspections of vehicles, real estate, and personal property. http://www.onsourceonline.com