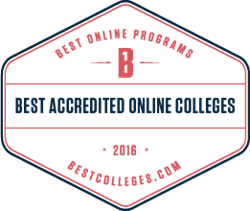 With so many colleges now offering online programs, our goal is to help students find a reputable, accredited school that meets their needs.
Houston, TX (PRWEB) April 04, 2016
BestColleges.com has released its 2016 list of the best online colleges in the United States, ranking the top 25 four-year schools. Each is an accredited, not-for-profit higher learning institutions, offering at least three degree programs entirely online.
BC revised its methodology for selecting the top online schools in 2016. The new formula reflects a holistic approach to evaluating the web-based learning experience at each school by examining several academic factors, along with affordability and the strength of its online offerings. Specific factors include admissions, year-to-year student retention, tuition costs, loan default rates among graduates, average class size, variety of online courses, and number of degree programs.
Over the past two decades, online programs have become an increasingly effective part of the higher education landscape. A 2015 Babson Research Survey found that 74.1% of academic leaders consider the learning outcomes of web-based education to be the same as, or superior to, those in traditional classrooms.
Most of these leaders also believe that online course and degree offerings are crucial to the sustainability and long-term growth of their school. Consequently, more colleges and universities have adopted online programs into their curriculum. The Babson survey found that 70.7% of all degree-granting institutions in the U.S. ― and more than 95% of schools with 5,000 or more students ― currently offer some online coursework. As more students bypass traditional brick-and-mortar schools in favor of online learning, these trends will likely accelerate.
Online programs offer an alternative pathway for prospective students who cannot physically attend a postsecondary institution (common prohibitive factors include cost, location, a full-time work schedule, or childcare obligations). At each school, online courses draw from the same curriculum and faculty as on-campus programs, ensuring an equivalent experience for web-based learners. Online degrees are also more affordable on average than residential programs, and many web courses adhere to a more flexible schedule, which allows students to complete assignments at their convenience.
The quality of an online degree varies from school to school. The BestColleges.com lists are designed to steer prospective students toward institutions with the highest standards for their curriculum, colleges that provide students with a quality education and positive learning outcomes.
Conflicting information about online programs leads many prospective student to question whether they're legitimate or effective, according to Stephanie Snider, Site Manager of BestColleges.com.
"Online learning is now an established and accepted part of higher education. With so many colleges now offering online programs, our goal is to help students find a reputable, accredited school that meets their needs," says Snider.
East Carolina University is BC's top-ranked online college. An innovative leader in distance learning programs for more than 60 years, East Carolina offers more than 75 online degree and certificate pathways in business, education, healthcare, technology, and other fields.
Appalachian State University claimed the second spot on BC's list. The school allows students to pursue 19 online bachelor's degrees, including programs in business management, social work, nursing, and psychology. Appalachian State also awards master's degrees, professional certificates, and educational specialist programs online.
The third and fourth spots on the list went to two new entries this year, including the University of Illinois at Springfield and Eastern Illinois University. Both schools offer a mix of bachelor's, master's, and certificate programs to online students. Overall, there are 15 newcomers on this year's list.
Rounding out the top five is the University of Florida. Florida offers online bachelor's, master's, and doctoral programs, as well as three specialist credentials in education and international degrees in construction management, pharmacy, and public health.
Below is BestColleges.com's 2016 list of the top 25 online colleges:
1.East Carolina University
2. Appalachian State University
3. University of Illinois at Springfield
4. Eastern Illinois University
5. University of Florida
6. Northern Kentucky University
7. Asbury University
8. Minot State University
9. University of North Carolina at Greensboro
10. University of Arkansas Online
11. Colorado State University - Global Campus
12. University of Central Florida
13. Central Washington University
14. ASU Online
15. Florida International University
16. California State University - Chico
17. Misericordia University
18. Buena Vista University
19. University of Minnesota Digital Campus
20. Indiana University - East
21. Old Dominion University
22. Clarkson College
23. Pennsylvania State University
24. University of Memphis
25. Florida Tech Online