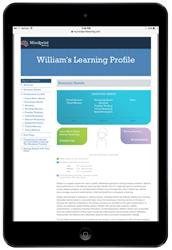 "As excited as we are to make this great resource freely available today, we believe our universal cognitive screener has the potential to reshape personalized learning for all students come this fall." Nancy Weinstein, CEO of Mindprint Learning
Princeton, NJ (PRWEB) April 05, 2016
Mindprint Learning today announced a free version of its award-winning personalized learning toolbox, enabling educators and parents to better target learning strategies and teacher-reviewed products for students based on each child's individual strengths, needs and interests.
"You will not find instructional strategies like these anywhere else emphasizing alignment to cognitive, emotional and academic needs," said Nancy Weinstein, Mindprint's CEO. Mindprint's free toolbox offers strategies to teach homework and organizational skills, suggestions for classroom supports, and thousands of teacher reviewed educational games, apps, workbooks, websites and more.
Mindprint empowers educators to modify instruction based on weaker skills, teach adaptive coping strategies and improve learning outcomes. Understanding a student's strengths provides options to compensate for weaker skills, build self-confidence, and nurture an overall love of learning. Mindprint's certified teachers review supplemental education resources including games, apps, websites and workbooks enabling educators to choose the optimal solutions for each learner. All of the products have been evaluated using a proprietary rubric based on Universal Design for Learning (UDL) standards and reflect the use of multi-modal delivery methods and avoidance of undesirable difficulties.
Parents, tutors and independent schools already use Mindprint to solve the problem of objectively identifying how students learn with a valid, online cognitive assessment. Weinstein continued, "While educators are comfortable providing differentiated instruction to students when they know why a student is struggling, they often cannot identify the underlying learning strengths and needs through observation. Standardized tests of academic achievement do not measure these skills." For the 2016-17 school year, schools with qualified support personnel will be able to access Mindprint's cloud-based platform starting at just $10 per assessment. Individual subscribers currently pay up to $199 per assessment for a more comprehensive solution. "There is no comparable online, efficient, and accurate tool available on the market," concluded Weinstein. "Effective personalized learning implementation has its challenges, including identifying what specific supports each child needs to be successful, since even the brightest students have strengths, needs and struggles."
For more information please visit http://www.mindprintlearning.com or watch our video.
About Mindprint Learning
Mindprint Learning's new platform provides a significant enhancement to existing personalized learning solutions for the general education classroom. The Mindprint assessment analyzes each child's strengths and weaknesses on the underlying skills required to process and remember new information. This analysis drives links to specific instruction and supplementary resources for each learner. Cognitive assessments have been the most reliable way to understand how a child learns, as opposed to what they know, for over a century. We enable educators to reap the benefits of the latest research on early intervention, metacognition, and neuroscience to help all students learn more successfully.
CONTACT: Eric Weinstein, 609-356-1480, eric(at)mindprintlearning(dot)com