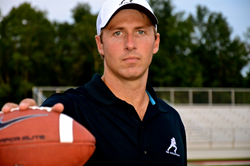 Having worked with quarterbacks along the Mississippi Gulf Coast for quite some time, it is exciting to finally expand westward to New Orleans...This is a perfect fit for an area brewing with talent. [David Morris, QB Country Founder]
NEW ORLEANS, La. (PRWEB) April 05, 2016
The South's premier quarterback training and development company, QB Country recently expanded its year-round program for quarterbacks to New Orleans. QB Country continues to train numerous recognizable names in college and professional football and is currently preparing 2016 College Football National Champion QB, Jacob Coker, and projected first-round draft pick, Paxton Lynch, for the NFL Draft.
Training will take place at the D1 Northshore Sports Training & Therapy center. Former Belhaven University quarterback Alex Williams will lead QB Country's New Orleans training and operations. Locations in Atlanta and Charlotte opened earlier this year.
"Having worked with quarterbacks along the Mississippi Gulf Coast for quite some time, it is exciting to finally expand westward to New Orleans and the North Shore," said QB Country Founder David Morris. Morris is a former quarterback at Ole Miss and started the company in 2010 in Mobile, Alabama. "Alex has New Orleans in his roots and is one of the best QB Coaches in the southeast. We want coaches to be in communities they love and are a part of. This is a perfect fit for an area brewing with talent." Coach Alex Williams was born and raised in Covington, Louisiana and was QB Country's first hire in 2013.
QB Country provides year-round specialized training for quarterbacks from middle school through the NFL, focusing on the physical and mental aspects required to play the quarterback position. QB Country trainees have gone on to become recognized college and NFL quarterbacks. Thirty-nine QB Country trainees signed college scholarships in the last two signing classes alone.
"I joined the QB Country family in 2013 and am extremely excited to help bring our program to New Orleans. Being a Louisiana native, I take pride in the football tradition here, and look forward to servicing young aspiring quarterbacks in the area," said Coach Alex Williams.
QB Country New Orleans training will take place at D1 Northshore Sports Training & Therapy center located at 1200 Pinnacle Pkwy, Covington, Louisiana 70433. QB Country partnered with D1 Sports Training in 2013 as their exclusive quarterback training company. New Orleans marks QB Country's 9th location and the third expansion this year.
"D1's relationship with QB Country is complementary as our organizations help impact and grow athletes on and off the field," said D1 Sports CEO Dan Murphy. "QB Country's attention to detail and holistic approach is what makes them the premier quarterback training program in the country."
Year-round small group and one-on-one training is offered in monthly packages. For registration information, contact Coach Alex Williams at alex(at)qbcountry(dot)com. Follow QB Country New Orleans updates on Twitter. For more information about QB Country, visit http://www.qbcountry.com. Please direct all media inquiries to Tim Weinhold at tim.weinhold(at)fallstongroup(dot)com or 410-420-2001.
About QB Country
Based in Mobile, Alabama with nine locations nationwide, QB Country specializes in year-round quarterback training and development for middle school, high school, college and NFL quarterbacks. QB Country offers specific quarterback training focused on proper footwork, throwing and body mechanics, as well as the mental and physical aspects of playing the hardest position in all of sports. Our goal is to educate quarterbacks on how to play the quarterback position the correct way at game speed. QB Country has 10 locations in Mobile and Birmingham, Alabama; Jackson, Mississippi; Atlanta; Charlotte, North Carolina; Memphis and Nashville, Tennessee; Orlando, Florida; New Orleans and Virginia.
QB Country founder David Morris is a 2002 graduate of Ole Miss where he was a quarterback and four-year letterman, backing up New York Giants QB Eli Manning. He has been a featured speaker at the Manning Passing Academy, Andrew Institute's Injuries in Football course and at football coaching clinics across the country.
To learn more, visit http://www.qbcountry.com, like QB Country on Facebook, or follow QB Country on Twitter.