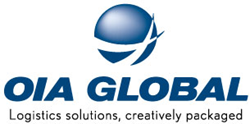 Portland, OR (PRWEB) April 04, 2016
OIA Global, a leading logistics, packaging and materials sourcing provider, announced additional European expansion with the launch of its new office in Barcelona, Spain. OIA's decision to open the new office was driven by demand from several existing multi-national customers.
"When our clients target a geographic market for expansion, we're always there to support them," said David Ower, Managing Director of Europe.
"Each market is unique, and our team of logistics professionals in Barcelona are there to ensure that our customers have the same seamless experience in Spain as they enjoy in all other markets," added Ower.
The Spanish economy is experiencing significant recovery since the 2008-09 recession, and is in the process of implementing innovative regulatory reform, according to the Organization for Economic Cooperation and Development (OECD). Mirela Duras, OIA's Corporate Support Manager of Europe pointed out "the Spanish economy has grown for ten straight quarters, making it a very desirable market to invest in."
OIA has traditionally held a strong base in the northern, western and central areas of Europe. The opening of its new office in Barcelona represents the latest step in the company's growth strategy, allowing them to further build their infrastructure throughout Europe.
OIA's BARCELONA OFFICE CAN BE REACHED AT THE FOLLOWING ADDRESS AND TELEPHONE NUMBER:
OIA GLOBAL
CALLE BRUC NO. 21
OFFICE 2, 2ND FLOOR
BARCELONA, SPAIN 08010
PH: +34 933 906 101
EMAIL: Barcelona(at)oiaglobal(dot)com
About OIA Global:
Since its founding in 1988, OIA Global has grown into a $1 billion supply chain management leader, delivering clients a unique combination of global logistics, materials sourcing, and packaging  solutions. With over 1000 professionals, 60+ owned offices and a worldwide presence in 26 countries, OIA designs innovative solutions that optimize supply chains around the world. OIA is a part of Indianapolis-based LDI, Ltd., a family office with more than a century of experience funding and operating high potential, middle-market companies. For more information please visit http://www.oiaglobal.com and http://www.ldiltd.com.
OIA Global Media Contact:
Jerry Levy
Director of Marketing
E. jerry(dot)levy(at)oiaglobal(dot)com
T. 503.736.5900