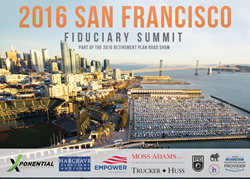 Our belief is that retirement plans are a dynamic and evolving component of a company's benefit offering, and as such, require ongoing attention.
San Francisco, CA (PRWEB) May 16, 2016
Xponential Growth Solutions announces the San Francisco Fiduciary Summit taking place on
June 8, 2016 at the JPMorgan Chase Building. The summit marks the seventh stop of the 2016 Retirement Plan Road Show- a national series of educational seminars designed to improve outcomes for 401(k) and 403(b) retirement plan participants.
Xponential Growth Solutions is pleased to announce the 2016 San Francisco Fiduciary Summit, hosted by Hargrave Fiduciary Advisors, as part of the national Retirement Plan Road Show. The summit will allow guests to interact and network with organizations represented by Finance, Human Resource, and Benefit executives, along with Business Owners and Fiduciaries. These industry experts will provide insights to help employers reduce fiduciary risk, identify plan enhancements and make better decisions that positively impact participants.
Hosts of the summit, Alex Hargrave (Principal) and Katie Gustafson (Vice President) of Hargrave Fiduciary Advisors, emphasize, "Our belief is that retirement plans are a dynamic and evolving component of a company's benefit offering, and as such, require ongoing attention. The 2016 San Francisco Fiduciary Summit will give plan sponsors a forum to interact with leading local experts who will discuss how to keep your plan in compliance and reduce risk and liability. "
Along with Alex and Katie from Hargrave Fiduciary Advisors, other guest speakers include:

Ryan Koch, CPA, Partner - Moss Adams LLP
Benjamin F. Spater, Director - Trucker Huss
Amy Glynn, Managing Partner - Global Retirement Partners Advisor Alliance
More speakers TBA
The summit will feature informative fiduciary discussions including:

Fee Levelization & Evaluating Plan Fees
Legislative Updates & the New Fiduciary Rule
Financial Wellness
Investment & Industry Trends Panel
Ask The Expert – Local & National Professional Panel
RFP Best Practices
As an exciting supplement to this year's conference, early registrants will have the opportunity to join a raffle to receive a complimentary VIP AT&T Park Batting Cage Experience. Following the summit, these guests will be able to enjoy early entrance into the ball park to watch batting practice of the San Francisco Giants.
The 2016 San Francisco Fiduciary Summit is the seventh stop of the 2016 Retirement Plan Road Show and will be held on June 8th, 2016 at JPMorgan Chase Building located at 560 Mission St., 20th Floor, San Francisco, CA 94105 from 11:00 am to 3:00 pm (lunch will be served). The San Francisco Fiduciary Summit is approved for 3 CPE/CPA credits, 3 HRCI general credits, 3 SHRM Professional Development Credits, and is CEBS eligible. Seating is limited and priority will be given to local plan sponsors, with a waived $150 registration fee available on a limited basis. Additional details and registration information can be found by visiting: http://xgrowthsolutions.com/retirement-events/2016/06/2016-san-francisco-fiduciary-summit/
About Hargrave Fiduciary Advisors LLC
Hargrave Fiduciary Advisors helps companies meet the fiduciary requirements of their retirement plan(s), with a goal of reducing their plan expenses and improving plan performance. Their services are built around three tenets: Planning, Guidance and Risk Management.
Hargrave Fiduciary Advisors acts as the "relationship manager" providing the link between the Plan Sponsor, the administrative vendor and any other professionals, such as an outside auditor. They prefer to be involved in all aspects of the design, operation and maintenance of the retirement plan. As their existing clients can attest, this has been their mode of operation for many years and resulted in retirement plans that are successful, well managed, with well managed risk.
They embrace their co-fiduciary status to the plan and design their services to meet established fiduciary standards, and strategies that seek to protect the plan and Plan Sponsor. Their investment advisory agreement states their fiduciary status in writing. They can provide services as an investment advisor under ERISA Section 3(21) or, as an investment manager under ERISA Section 3(38).
Learn more about Hargrave Fiduciary Advisors here: http://hargravefiduciaryadvisors.com/
About Xponential Growth Solutions
Xponential Growth Solutions (XGS) unites 401(k), 403(b) and retirement plan sponsors with elite resources and exclusive connections. Through research, fiduciary summits, and industry expertise, they help the nation's retirement plan sponsors, fiduciaries, and trustees evaluate their plan and navigate the retirement plan industry. Working to help America reach their retirement goals one retirement plan at a time, XGS also founded the Retirement Plan Roadshow, a national series of fiduciary educational summits dedicated to human resources, finance and business professionals in charge of America's 401(k), 403(b), and retirement plans.