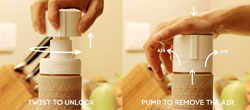 We're so excited to bring SANS Bottle to Indiegogo InDemand where consumers can continue to pre-order and receive a great discount.
New York, NY (PRWEB) April 01, 2016
SANS bottle, the reusable glass travel bottle with its fresh vacuum seal solution for busy people on the go, is also on the move after an extremely successful crowdfunding campaign on Kickstater. Pre-orders at discounted prices for consumers will now be available on Indiegogo InDemand, a platform for successful crowdfunding campaigns to continue to fulfill demand from new backers.
"We knew we had an incredible product and consumers around the world have confirmed beyond a doubt that the SANS Bottle is the best way to preserve the life of smoothies and juices," said SANS Bottle creator Tracy Miller. "We're so excited to bring SANS Bottle to Indiegogo InDemand where consumers can continue to pre-order and receive a great discount."
With built in technology featuring an innovative vacuum pump to seal and secure drinks so they avoid rapid oxidation and last longer, SANS Bottle follows a similar concept to wine preservers that prolong the freshness of red wine.
"I used to work with one of the leading wine accessory companies where vacuum seal products were very popular, and as an avid smoothie and juice lover, I always felt like it was a race against time to finish my beverage before it went bad," added Miller. "I learned that like wine, when blended fruits and vegetables mix with the air, they rapidly oxidize and lose their nutrients and go bad. I looked to the market for a solution and there really wasn't a product targeting the problem of rapid oxidation in juices and smoothies – until now."
Through a collaboration with a team of nutritionists, designers, and engineers in New York City and Taipei, SANS Bottle was developed. It took over a year to design, create and test to ensure this one-of-a-kind product is perfect to preserve juices and smoothies.
Now healthy active people can take their smoothies and juices anywhere without being on a doomsday countdown clock. SANS bottle is for people who like to sip on healthy and nutritious drinks at the office, in the gym, on a bike ride, in the car, in a classroom, anywhere - and drink it on their schedule without having to rush to finish before it goes bad.
How it Works
Just pour a drink of choice (even wine) into the glass bottle. Attach the lid and twist to unlock, which will simultaneously release the pump. Using the palm of your hand pump the preserver cap up and down to remove the air. The pump will become more difficult to pump once you have achieved preservation and removed all the air. Once complete, push the pump down and twist 90 degrees to lock. The beverage is now preserved and sealed.
SANS is a 16oz reusable bottle made of glass. Features include:

Wrapped in a silicone sleeve for insulation
Easy handgrip
Leak proof pump mechanism lid
User friendly pump system
FDA Food Safe
SANS Bottle juice and smoothie preserving travel bottles are now available at special pre-order prices on Indiegogo InDemand: https://www.indiegogo.com/projects/sans-juice-and-smoothie-preserving-travel-bottle#/
About SANS Bottle
The SANS team is a group of young designers and entrepreneurs based in New York City and Taipei who are passionate about juicing, health, fitness and design. After experiencing our own frustrations from the lack of preservation options in this category, we decided to do something about it. We have been working on this project for over a year and we are finally ready to share SANS Bottle with the world. If you're one of the millions of people who take health and fitness seriously, you're going to need to get your hands on a SANS Bottle.