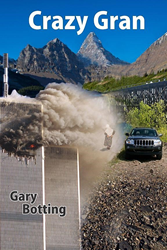 "'Crazy Gran' is a compelling and wholly original thriller…For fans of thrillers and the shadowy world of international intrigue, this is the book for you." – Reviewer, Charles Asher
(PRWEB) April 06, 2016
Amy Randall's uncle and mother both had insider knowledge that something terrible was going to happen in New York on September 11, 2001. Her mother warned thousands away from the city before the Twin Towers came down. How did they know?
The U.S. government took note of the warnings and now believe that Amy's supposedly dead father was behind 9/11 and an upcoming plot to detonate a missing nuclear bomb inside a uranium mine in the Adirondacks, causing a chain reaction that would create a sixth Great Lake and evacuate the Eastern seaboard.
Amy's family members are "Chrislamics," a form of hybrid fundamentalists who worship the god "Allajah," a combination of Allah and Jehovah. The sect follows both Sharia Law and the Old Testament to the letter.
Amy's uncle will do anything to stop her from alerting authorities to the upcoming terrorism, even accusing her of false fornication charges so Sharia Law would require she be stoned to death. Can anyone stop this plot that will blow New York State sky high?
"'Crazy Gran' is a compelling and wholly original thriller…For fans of thrillers and the shadowy world of international intrigue, this is the book for you." – Reviewer, Charles Asher
Watch the video at: https://youtu.be/JYHhUyzSBKg
About the Author: Gary Botting practices law in Vancouver, B.C., and is the author of 36 books, including three titles in 2015. With doctorates in English and law, and seven other degrees to his credit (including an MFA in playwriting), he is an expert on extradition, wrongful conviction, and dangerous offender legislation. His last novel was Campbell's Kids.
Author's website: http://www.garybotting.com
"This timely book's plot comes straight out of the headlines. We are thrilled to announce its release," said Robert Fletcher, CEO of Strategic Book Publishing and Rights Agency.
CRAZY GRAN (Hardcover ISBN: 978-1-68181-239-7, $33.00; Softcover ISBN: 978-1-68181-138-3, $19.95) versions are now available and can be ordered through the publisher's website: http://sbpra.com/GaryBotting or at Amazon.com or Barnesandnoble.com.
WHOLESALERS: This book is distributed by Ingram Books and other wholesale distributors. Contact your representative with the ISBN for purchase. Wholesale purchase for retailers, universities, libraries, and other organizations is also available through the publisher; please email bookorder@sbpra.net.