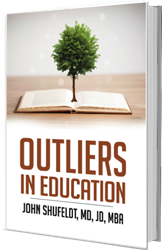 This is a culture we want to replicate and our future teachers will be greatly enriched by wise words from these thee mentors.
Scottsdale, AZ (PRWEB) April 04, 2016
Outliers Publishing announced the student teacher book titled Outliers in Education with exclusive interviews from six seasoned educators, is now available for sale in paperback and eBook formats. These accomplished individuals offer advice and "real talk", including professional accomplishments and hardships for prospective education majors and student teachers.
The eBook is $4.99 and can be read on any device compatible with the Kindle eReader application. The paperback is $11.95 and is also available at http://www.ingredientsofoutliers.com/shop.
Individuals profiled in the book include army veteran and Emeritus Professor at Drake University, Dr. Robert Kodama; early childhood education teacher and Director of Villa Montessori School, Margo O'Neill; fifth grade teacher, Brenda Rico; Emeritus Professor and Devil Mountain Books publishing company founder, Clark Sturges; English and Advanced Via Individual Development (AVID) teacher, Maribeth Sublette; and Owner and Director of Little Friends Montessori School, Mary Vallelonga.
These six educators were chosen as outliers due to their wide-ranging backgrounds and experiences, from elementary education to Ivy League. Their personal stories and professional practical application tips are provided in the book to enhance skills, teach leadership traits, and prepare education majors and student teachers for a career in teaching.
"We have interviewed an incredible group of teachers who pursued their passions and represent the gamut of age groups, experience levels, and teaching styles. They have tirelessly worked to create an atmosphere in which their students can learn and grow. This is a culture we want to replicate and our future teachers will be greatly enriched by wise words from these thee mentors," said author, entrepreneur, and emergency physician, Dr. John Shufeldt.
To learn more about Outliers in Education, visit http://www.ingredientsofoutliers.com/education. For media inquiries, contact Amanda Best at abest(at)ingredientsofoutliers(dot)com.
About Author John Shufeldt:
As well as being a practicing physician and lawyer, Shufeldt is an experienced pilot and a business entrepreneur. He is the owner of telemedicine company MeMD.com, UrgentRad.com, UcinetMSO.org, and UrgentCareEducation.com among other health and non-healthcare businesses. He teaches regularly at ASU to master's level business and law students and is on the Phoenix SWAT team.
About the Outlier Series:
After the publication of Ingredients of Outliers, Ingredients of Young Outliers, Ingredients of Outliers: Women Game Changers, and Outliers in Medicine, Outliers in Education will be followed by at least 9 other books over the course of 2015-2016. The books are intended for students, college graduates and anyone interested in entering or furthering their career. The goal of the series is to offer books specific to sought-after career fields with insider information and recommended channels for pursuing that career from experts in each respective profession.
The career fields featured in the Outlier Series will include but are not limited to:
Medicine, Education, Writing & Journalism, Health, Sports, Entrepreneurism & Business, Music, Science, Arts & Entertainment, Technology, and Service to Mankind & Humanity.