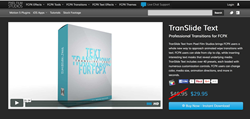 This is a great new FCPX transition for Final Cut Pro X editors.
Aliso Viejo, CA (PRWEB) April 01, 2016
TranSlide Text from Pixel Film Studios brings FCPX users a whole new way to approach animated wipe transitions with text. FCPX users can slide from clip to clip, while inserting interesting text masks that reveal underlying media. TranSlide Text includes over 40 presets, each loaded with numerous customization controls. FCPX users can change color, media size, animation directions, and more in seconds.
TranSlide Text includes over 40 drag and drop presets for the user to select. Film makers of any skill level can select options with motion blur for added style and realism, as well as control the animation speed methods and directions. Horizontal and vertically aligned text styles are also included.
TranSlide Text gives Final Cut Pro X users an all new set of tools, allowing them to place text where anywhere, align it left, center, or right, and animate it into the shot. Tracking, line spacing, and slant controls allow users to make each individual transition unique.
TranSlide Text is an easy to use set of transition presets. FCPX users can use any font, and any type of media with these transitions. Animation controls and curves are selected using a drop down menu of selections, saving the user time by animating each transition. Visual guides are also available so the user knows which step is being modified.
TranSlide Text is a simple set of drag and drop styled transitions for FCPX. Filmmakers simply select the style wanted, apply it between media clips, and stretch the duration out to the desired length. Each preset contains keyframe-less animations, saving users valuable time, while adding professional quality wipes between shots.
Established in 2006, Aliso Viejo, California-based Pixel Film Studios is an innovative developer of visual effects tools for the post-production and broadcast community. Their products are integrated with popular non-linear editing and compositing products from Apple FCPX. Apple, the Apple logo, Mac OS X, and Macintosh are registered trademarks of Apple Inc. in the U.S. and/or other countries. All other trademarks and trade names are the property of their respective owners.