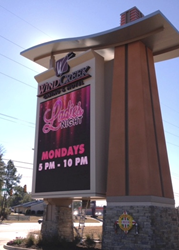 Expanding our FTX production capacity was an absolute necessity. Migrating the EMC business unit to EBSCO proved to be an expedient and cost effective solution to meet our needs. Matt Xander, CEO, Formetco
Atlanta, GA (PRWEB) April 04, 2016
Formetco Incorporated announces a strategic partnership with EBSCO Signs & Displays through which EBSCO will manage electronic message center production and marketing. Subsequently Formetco has developed and opened the LHG Innovation Center to support the rapid expansion of their FTX product line.
Spurred by Formetco's rapid growth in the LED display business a decision was made to reassign the electronic message center (EMC) sign business unit to another company, and re-purpose manufacturing space to the FTX business unit. After substantial research Formetco decided to partner with EBSCO to take over the EMC business unit. Formetco chose EBSCO based on a number of factors, including financial stability, an ability to successfully manage a large dealer network, consistent four week lead time and a commitment to excellence in its operations.
Relocating the EMC manufacturing operation made available a very large amount of production space. The space was revamped to support the FTX product line. The majority of the space was developed to increase production output for the FTX LED video display screens. A smaller portion of the space was used to create the LHG Innovation Center. The LHG Innovation Center is a electronic display technology expo and training facility. Within the center Formetco customers can get an up close look at live working LED billboard and LED scoreboard displays, and get hands-on training on the operations of high-tech display screens. Formetco CEO Matt Xander commented, "Expanding our FTX production capacity was an absolute necessity. Migrating the EMC business unit to EBSCO proved to be an expedient and cost effective solution to meet our needs".
The Electronic Message Center Product Line
The electronic message center displays are LED display boards capable of displaying text messages, graphics and videos for informational and advertising purposes. These displays are typically seen as part of business signs, normally 100 square feet or less.
The FTX Product Line
The FTX products are large electronic display screens, notably billboards, scoreboard systems and spectacular displays. These display screens utilize ultra bright LED modules to render text, graphics and video in near HD quality. FTX displays typically range from 200 to 3000 square feet, however, Formetco's modular design allows for virtually any size display to be manufactured in four weeks or less.
About EBSCO Signs & Displays
EBSCO Signs & Displays is a division of EBSCO Industries, listed as a Fortune 200 list of privately held companies in the United States. EBSCO Signs & Displays manufactures high quality state-of-the-art LED Electronic Message Centers featuring UL certified designs and exceptional warranties.
About Formetco, Incorporated
Formetco is a leading US based manufacturer of LED billboard, LED scoreboards, and video display screens. Formetco has completed projects ranging from the high resolution LED Video Screens at the College Football Hall of Fame, to LED screens for outdoor advertising, scoreboards and municipalities around the world.