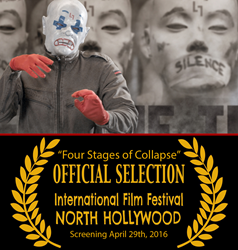 Creativity is an act of defiance - Twyla Tharp
San Jose, CA (PRWEB) April 05, 2016
Social-political films have been around a long time with classics such as, "All the President's Men", "The Manchurian Candidate", "Schindler's List", "Gandhi" and "Dr. Strangelove or: How I Learned to Stop Worrying and Love the Bomb". These types of films blossom during turbulent times when the country and the world are in complete disarray. While social media is bursting with political discussion, however crude and offensive, where are the dance films expressing this discourse?
Dance has traditionally been a theatrical art form of beauty and precision expressing traditional themes of love, loss, fantasy and dancing nutcrackers. However, dance is also an art form of passion and deep human expression, so why not politics? Twyla Tharp said, "Creativity is an act of defiance."
John T. Williams is an award-winning screen dance filmmaker whose dance films have been presented in over 75 film festivals worldwide. Most of his films have a social-political message with surrealistic imagery and portrayed through dance. His most controversial short film, "Four Stages of Collapse", portrays a totalitarian regime that suppresses basic human rights, criminalizes religion, and eliminates diversity.
Several dance films will be showing at the International Film Festival North Hollywood April, 29th, 2016 at the NoHo Arts Center Theater in North Hollywood, CA, including "Four Stages of Collapse". The film is powerfully choreographed and performed by world-renowned Jabbawockeez dancer Tony Tran.
George Orwell once said, "In a time of universal deceit, telling the truth becomes a revolutionary act". Choreographer Jonathan Watkins full length ballet, "1984", an adaptation of George Orwell's dystopian masterpiece created for Northern Ballet also dives into the social-political realm with acclaimed success. The production was nominated for Dance at The Manchester Theatre Awards and will be performing at the Sadler's Wells Theatre (UK) in May 2016.
Producing social-political dance films is not without risk. Mr. Williams' film, "2412" was rejected from several festivals because of its political viewpoint. The film is based on the G. Edward Griffin interview with EX-KGB agent Yuri Bezmenov discussing ideological subversion in the United States and how Marxist ideology is deconstructing America's values, destabilizing the economy, and provoking a crises. Not exactly the type of film some festival curators want to introduce to their audiences. However, it's exactly the type of films we should be seeing more of with diverse opinions. Given the extreme political climate that's raging throughout the US and around the world, how can artists be silent? In the 1980's Olivia Newton-John said, "Let's get physical". In 2016, filmmakers need to say, "Let's get political".