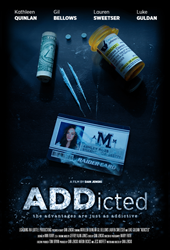 The Advantages Are Just As Addictive
West Palm Beach, FL (PRWEB) April 07, 2016
On college campuses everywhere, one theme seems to be a consant: Adderall is a mainstay that isn't disappearing anytime soon. Kids sell it. Students fake symptoms to get their own prescriptions. Three-day study binges without sleep are the norm. Writer/director, Dan Jenski, shines a much-needed light on this epidemic in his feature-film debut, "ADDicted." Starring Kathleen Quinlan and Gil Bellows, the movie will be making its world premiere this month at the Palm Beach International Film Festival, followed by screenings at the Kansas City and Myrtle Beach Film Festivals.
"ADDicted" tells the story of Drew Dawson (newcomer Luke Guldan), an overwhelmed college student who gets suspended from the football team after his teacher (Bellows) fails him for plagiarism. When Drew's politico mother (Quinlan) finds out, she tightens her reins on him. "I'm in the national public eye now. Your screw ups, are my screw ups. What the hell were you thinking?", she laments. For the sake of Drew's career as well as her own, Drew takes his mother's advice and increases his Adderall dosage, a prescription he has been on since age 10 for his ADD. However, after befriending the same teacher who failed him, Drew questions whose life he's really living and at what costs.
Each stop along the film festival circuit is proving to be its own special event:
Palm Beach is the World Premiere. Kansas City, which sold out in less than 12 hours, is a homecoming of sorts as the entire movie was filmed in Missouri, and many of the cast and crew are locals.
In Myrtle Beach, Dr. Dala Akoury will be joining Jenski for a Q&A session directly following ADDicted's screening. Dr. Akoury is with AWAREmed, an addiction recovery and rehabilitation center in Myrtle Beach. Additionally, Kathy and Ricky Fee will participate in the Q&A. They are the parents of Richard Fee, a young man who while in the midst of studying for his medical school exams desperately turned to Adderall, thus beginning a downward spiral of prescription pill abuse, which ended in the taking of his own life. Richard's story made national news when the "New York Times" published an article about him in 2013:http://www.nytimes.com/2013/02/03/us/concerns-about-adhd-practices-and-amphetamine-addiction.html?_r=0.
The dates and times of the screenings are:
Palm Beach International Film Festival (http://www.pbifilmfest.org/film-lineup.php)
Saturday, April 9 at 3:30 PM EST
Kansas City FilmFest (http://www.kcfilmfest.org/#!kcff-2016/cxth)
Sunday, April 17 at 12:00 PM CST
Myrtle Beach Film Festival http://www.myrtlebeachfilmfestival.com
Friday, April 22 at 5:00 PM EST
For more info on "ADDicted": Facebook.com/ADDictedMovie