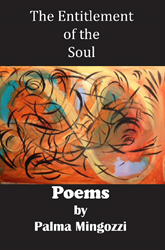 Palma Mingozzi is an exceptional female author whose poems illuminate the experience of women worldwide.
Staten Island, NY (PRWEB) April 04, 2016
S.W.A.N. Day Staten Island is a celebration honoring local women artists and their contributions to our community through their art forms. Located on the grounds of Snug Harbor Cultural Center, the highlights of the day included: Filmed Artist Interviews by Liz Marotti and Camille Schmoeker, Artist Exhibition, Motivational Speaking and Workshops led by Samantha Popp and Pamela Hernandez, Poetry and visual art by Palma Mingozzi as well as expanded programming for young girls (12-18) in several themed workshops—"Living Your Dreams", and a Special Women's Panel Discussion on the Arts.
Palma Mingozzi is a self-taught artist and writer from Staten Island, New York. She expresses herself in a variety of mediums including oil, acrylic and watercolor. Her interests are in the abstract and include a variety of subjects, infused with realistic themes, including the emotional humane and spiritual. These include beauty, upliftment, awareness, human spirit, wholeness, completion, mystery, fantasy and nature. She is inspired by the beauty of nature people and her environment. She has participated in more than 10 exhibits over the period of five years on Staten Island, and her solo debut exhibit was at the Global Art Gallery in Italy in 2012. She is a poet and writer and has written several poetry books both in English, The Entitlement of the Soul and Emotional upheaval, and in Italian, Brucio Di te, Trofeo, Un'altro Oceano, Erasmo Serretti, Studies in Chromoterapia. She has been included in Italian anthologies, Il Sentiero delle Muse, Librando L'anima, Goccia a Goccia in honor of Alda Merini, Ciò Che Caino non Sà. She translated both Io l'ho incontrato così by Daniela Straccamore and Erasmo Serretti's book into English. She has been included in one Indian anthology, dimorianreview.com, and has participated internationally in many groups lending her poetry out in places such as Africa, India Canada, Ireland,Pakistan, Spain and Italy.
Boulevard Books is an educational publishing company for the 21st century, Founded in 2010 by Avi Gvili, it aims to bring the best writers across the globe to a greater audience.