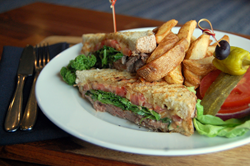 The Woodlands (Houston) , TX (PRWEB) April 04, 2016
Benchmark Hospitality International celebrates National Grilled Cheese Month this April with a menu of inspired sandwich recipes from its Personal Luxury Resorts & Hotels® and Benchmark Resorts & Hotels® portfolios. Top chefs from more than one dozen of Benchmark's destination resorts, hotels, and conference centers serve up their take on this beloved American classic – each infused with a taste of local flavor. From savory smoked brisket and spicy Poblano peppers at San Antonio's Hotel Contessa, to a meaty ropa vieja and Fontina cheese panini at the Gloria and Emilio Estefan's Costa d'Este Beach Resort & Spa in Vero Beach, Florida, these culinary how-tos promise an indulgent-worthy adventure for the taste buds.
Las Ramblas at Hotel Contessa, San Antonio, Texas
Smoked Texas Brisket Grilled Cheese with Roasted Poblanos-Redneck Cheddar-Heirloom Tomatoes and Caramelized Onions by Chef Jeff Axline
Ingredients
12 ea. 2 oz. sliced Redneck Cheddar (or any artisan Cheddar Cheese)
12 ea. 1 oz. slices of American cheese
12 slices Thick Cut Texas Toast
24 oz. of thinly sliced smoked beef brisket
12 oz. sliced and caramelized onions
3 ea. medium poblano peppers (roasted deseeded and sliced)
12 ea. thick slices of heirloom tomato (Ripe)
Salt and Pepper
8 TBSP Butter (melted)
Method
Preheat oven to 325 degrees. Lay out the 4 slices of Texas toast top. Place one slice of cheddar and American on the each slice of bread. Layer equal amounts of brisket on each slice of bread, followed by equal amounts of onions and poblanos. Finish by adding the sliced tomatoes and 1 more slice of each cheese and sprinkle with a pinch of salt and pepper. Top off sandwiches with remaining 4 slices of bread. Heat butter in a large skillet or Dutch oven and cook each sandwich until browned. Transfer to greased baking pan and place in oven for 7-10 minutes or until cheese is melted. Slice in half and enjoy.
The Wave Kitchen & Bar at Costa d'Este Beach Resort & Spa, Vero Beach, Florida
Ropa Vieja & Fontina Cheese Panini by Chef Armando Galeas
Grilled Cheese
Ingredients
12 each slices brioche bread thick slices
24 slices Fontina Cheese
1/2 cup Dijonaise (see recipe)
1 cup caramelized red onions
Ropa vieja (see recipe)
6 tbsp. room temperature unsalted butter
Method
Take slices of bread and spread about 2 teaspoons of dijonaise on each side, arrange the cheese slices one per side. Add a heaped amount of warm ropa vieja on one side of the bread, top with caramelized red onions and place the second slice of bread on top to cover. Smear the soft butter on both sides enough to cover the entire bread slices, place on a Panini machine or on a medium hot heavy griddle pan. Toast on both sides until golden brown and cheese has melted.
Caramelized onions
Ingredients
3 ea. large red onions thinly sliced
1 tbsp. canola or olive oil
1 tbsp. white sugar
3 tbsp. sherry vinegar
2 sprigs of fresh thyme
Salt & ground black pepper to taste
Method
Add oil into a medium size sauté pan. Add onion in small amounts to retain heat. Keep heat at medium high, scraping the bottom of the pan. Cook onions until all liquid has evaporated and onions start to brown, add vinegar and sugar keep cooking until must of the liquid has evaporated. Adjust seasoning with salt and pepper, add fresh thyme and mix well. Remove from heat and reserve. Remove thyme stems before use.
Dijonaise recipe
Ingredients
1/2 cup store bought mayonnaise
1 tbsp. Dijon mustard
2 tsp. coarse grained mustard
Method
Place all ingredients in a bowl and mix together, store under refrigeration until use
Ropa Vieja
Ingredients
4 lbs. flank steak or shoulder beef
1 ea. red pepper julianne
1 each green pepper julianne
1 ea. white Spanish onion julianne
2 tbsp chopped fresh garlic
16 oz. chopped fresh tomatoes
½ cup tomato paste
2 tbsp white sugar
2 ea. whole bay leaves
2 cups dry white wine
1 tbsp ground fresh cumin
16 oz. beef or vegetable stock
Salt and black ground pepper to taste
½ cup canola or olive oil
Method
Add oil into a large braising pan over medium high heat. Season the beef with salt and pepper and seared on all sides, remove from the heat. Lower heat, add vegetables until soft but do not brown, add tomato paste and cook for 3 to 5 minute, deglaze with wine, reduce by 1/3 add rest of ingredients and seared beef, cover and let simmer for 45 to 1 hour until beef is fork tender, adjust seasoning. Cool in liquid until able to handle. Shred by hand or with the help of a fork. Reheat to order.
For additional National Grilled Cheese month recipes from Benchmark Hospitality International, please visit the following:
Barking Frog at Willows Lodge, Woodinville, Washington
Roasted Garlic Brioche Grilled Cheese with Creamy Tomato Fennel Soup by Chef Rick Deyo
Burnham's at Eaglewood Resort & Spa, Itasca, Illinois
Chili Relleno Chimichanga Grilled Cheese, Tequila Pico Shot, and Taco Lime Chips by Chef John Billings
Caracol at Marenas Beach Resort, Sunny Isles Beach, Florida
Grilled Lechon con Queso by Chef Carlos Candelaria
Christopher's Restaurant at The Heldrich
Grilled Basil Pesto Ciabatta with Burrata Cheese, Slow Roasted Herb Tomatoes and Balsamic Dressed Arugula by Chef Kristopher Kloepping
Haydens Post at Snow King Hotel, Jackson Hole, Wyoming
Smoked Brisket Grilled Cheese by Chef Matt Arter
Morada at The Inn at Rancho Santa Fe, Rancho Santa Fe, California
Caprese Grilled Cheese Sandwich by Chef Garry Valiente
Mountain View Restaurant at Cheyenne Mountain Resort, Colorado Springs, Colorado
Fonte's Mac & Griddled Cheese Sandwich by Chef Carlos Addarich
Nine18 at Villas of Grand Cypress, Orlando, Florida
Tuscan Grilled Cheese by Chef Lonny Huot
Preston's Restaurant at The Inn at Virginia Tech, Blacksburg, Virginia
Country Ham and Pimento Grilled Cheese, Shot of Southwest Virginia Sweet Potato and Peanut Soup by Chef Chang-Lei Yun
Shore at Santa Barbara Beach & Golf Resort, Curacao
Grilled Halloumi Cheese Sandwich by Chef Mischa Graafmans
Stillwaters at Stonewall Resort, Roanoke, West Virginia
Mountain Mama Pepperoni Roll Grilled Cheese by Chef Tim White
Linwood's Bar & Grill at Chaminade Resort & Spa, Santa Cruz, California
The New York Grilled Cheese by Chef Kirsten Ponza
The Pub at Doral Arrowwood, Rye Brook, New York
Twisted "Big Apple" Grilled Cheese by Chefs Michael Schmutzer & Genci Gjeci
Contact: Ken Ellens
KEN ELLENS COMMUNICATIONS
201-758-2864 / KenEllens(at)aol(dot)com
Jessica Milton
Regional Director of Public Relations
786-714-6268 / jmilton(at)usa-bhi(dot)com
Kirsten Andresen
Regional Director of Public Relations
206-427-5482 / kandresen(at)usa-bhi(dot)com
About Benchmark Hospitality International®
Benchmark Hospitality International® is a recognized global leader in the management and marketing of resorts, hotels and conference centers. The company's two distinctive portfolios of properties, Benchmark Resorts & Hotels® and Personal Luxury Resorts & Hotels®, represent the finest in guest-dedicated hospitality in unique destinations across the United States, in the Caribbean and Japan. Benchmark Conference Centers® maintain the highest standards for certification in meeting excellence. Benchmark Hospitality was launched in 1980 as an independent company and today operates worldwide from offices in The Woodlands (Houston), Texas, and regional offices in New Jersey, Washington State and Japan.
Benchmark Hospitality's Lifestyle Journal
Mosaic Traveler Blog
# # #