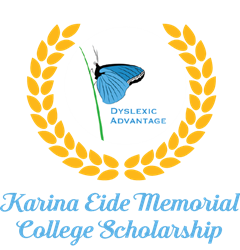 Dyslexia is associated with many strengths. The Karina Eide Scholars will do great things.
Seattle, Washington (PRWEB) April 04, 2016
Drs. Brock and Fernette Eide, Co-Founders of the non-profit organization Dyslexic Advantage, were pleased to announce the awarding of 16 Karina Eide Memorial College Scholarships nationwide. Karina Eide Scholarship Awardees showed exemplary leadership, ability, and fortitude, and represented such diverse fields as pre-law and pre-med, drone technology, veterinary science, horticulture, game development, organizational and general psychology graphic design, music production, special education, business, mechanical engineering, photojournalism, and hospitality and tourism. Students are financial need-qualified students at: Auburn University, Bethany College, California State University - East Bay, Chapman College, Cornell University, Hudson Valley Community College, North Greenville University, Oregon State University, Saint Martin University, Seattle University, South New Hampshire University, Tarleton State University Troy university, University of Minnesota, Duluth, Victory Valley Community College, and Western Washington University
The scholarship provides $2500 to be applied to tuition and educational needs. The scholarship was made possible by a generous anonymous donor.
Dyslexic Advantage is a 501(c)3 charitable organization that promotes the positive identity, community, and achievement of dyslexic people by focusing on strengths. Karina Eide was a remarkable young woman who was a supporter and volunteer with Dyslexic Advantage since its inception. She was a young person with incredible heart, character, and vision, who loved helping and encouraging others.
Dyslexia is a learning difference found in 15-20% of the population. It is associated with strengths in high-order thinking and creative problem solving, and dyslexic men and women are over-represented in fields such as engineering, art and design, and entrepreneurship. For more information about dyslexia and advantages associated with dyslexia visit: http://DyslexicAdvantage.org