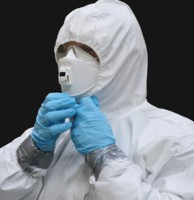 Until now, the presence of tremolite asbestos in feldspar has not been described...
Raleigh, NC (PRWEB) April 05, 2016
An article in an Italian healthcare journal suggests that people who work with feldspar, a common mineral used in glass and ceramic manufacturing, may also be unknowingly exposed to asbestos. Surviving Mesothelioma has just posted details of the new report. Click here to read it now.
Fulvio Cavariani with the Regional Asbestos Center in central Italy reports that a "significant presence" of asbestos fibers, the primary cause of mesothelioma worldwide, have been found in powder milled from feldspar extracted from a Sardinian mine.
"Until now, the presence of tremolite asbestos in feldspar has not been described, nor has the possibility of such a health hazard for workers involved in mining, milling, and handling of rocks from feldspar ores been appreciated," observes Cavariani.
The article, published in Annali del Instituto Superiore di Sanita (Annals of the Institute of Health), says mineralogists and industrial hygienists need to be made aware of this potential mesothelioma threat hiding in feldspar.
"The idea that some feldspar may be contaminated with asbestos, a toxin so closely linked with malignant mesothelioma, is especially troubling given that so many people around the world work in industries that use this common mineral," says Surviving Mesothelioma's Managing Editor, Alex Strauss.
An estimated 21 million tons of feldspar is mined and marketed around the world every year. For more on the potential for mesothelioma among feldspar workers, see Article Raises Specter of Unrecognized Mesothelioma Risk, now available on the Surviving Mesothelioma website.
Cavariani, Fulvio, "Asbestos contamination in feldspar extraction sites: a failure of prevention?", Jan-Mar 2016, Annali del Instituto Superiore di Sanita, pp. 6 - 8, http://www.iss.it/binary/publ/cont/ANN_16_01_03.pdf
For nearly ten years, Surviving Mesothelioma has brought readers the most important and ground-breaking news on the causes, diagnosis and treatment of mesothelioma. All Surviving Mesothelioma news is gathered and reported directly from the peer-reviewed medical literature. Written for patients and their loved ones, Surviving Mesothelioma news helps families make more informed decisions.