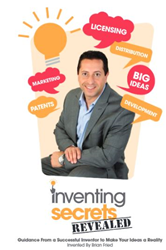 "I've spent more than a decade helping people navigate the invention maze," Fried says. "I'm thrilled that this book has enabled me to share what I know in order to support inventors at every stage of the invention process."
Melville, NY (PRWEB) April 04, 2016
Brian Fried says that the difference between an inspired idea and marketable product can be summed up in one word: support. "Would-be inventors often don't have the knowledge or resources to bring worthy concepts to fruition," he says. Fried, an invention industry expert, has now filled that gap with his second book, "Inventing Secrets Revealed" (Wingspan Press, ISBN 978-1595945730).
In the book, Fried guides readers through each step of the invention process, starting with identifying as an inventor – no strings attached. "Inventors are often dismissed as eccentric dreamers," he says. "It's important to validate that they have the intellect, habits, and goals to transform dreams into reality."
From there, Fried delves into how inventors should go about protecting their ideas, covering the obvious – non-disclosure agreements and patents – as well as the nuances. "Inventors need to know how much to disclose about their invention, and to whom," Fried says.
Fried then walks the reader through prototyping, licensing, and manufacturing options – including the costs – and discloses the keys to successfully marketing and distributing products. "Pitching a product is part art and part science," Fried says. "Inventors need to know the marketplace and know how to sell themselves."
"Inventing Secrets Revealed" draws upon Fried's knowledge as an inventor consultant and licensing agent (http://www.inventorconsulting.com), as well as his experience as the successful inventor of Pull Ties, Eggstra Space, and countless other products available from big box retailers, specialty catalogs, direct response TV, and home shopping channels. The book also reflects information garnered from Fried's more than 150 interviews with prominent players in the industry for Got Invention Radio.
"I've spent more than a decade helping people navigate the invention maze," Fried says. "I'm thrilled that this book has enabled me to share what I know in order to support inventors at every stage of the invention process."
Inventor Smart (http://www.inventorsmart.com) Founder and CEO Brian Fried is an inventor and inventor consultant. Mr. Fried is a national spokesperson and advocate for inventors, and is the author of "You and Your Big Ideas" and "Inventing Secrets Revealed." He hosts the online talk show, "Got Invention Radio," and has interviewed Lori Grenier from "Shark Tank," as well as representatives from the U.S. Patent & Trademark Office, Legal Zoom, Hasbro, Alibaba, Walmart, and As Seen on TV companies, as well as the inventor of the cell phone and the inventor of the Jenga game. He is the inventor consultant for Nicole Riche's VH1 show, "Candidly Nicole." Mr. Fried is available for interviews, during which he can share his expertise about any aspect of the invention process.
To schedule an interview, contact:
Brian Fried
516-456-3656
brianfried(at)gmail(dot)com
http://www.inventorsmart.com
###