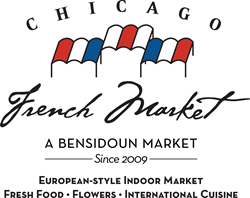 'The Chicago French Market that opened more than six years ago has grown in depth and character and evolved into the Market that our visitors value today.' -- Sebastien Bensidoun, co-owner and operator of Chicago French Market
Chicago, Illinois (PRWEB) April 07, 2016
The Bensidoun family and MetraMarket today unveil a brand new look and modernized amenities at the Chicago French Market, the city's only year-round, European-style market offering fresh food, flowers and international cuisine from more than 30 local vendors. The new look and amenities will be the most extensive and dramatic updates made to the market space since its grand opening in 2009—with design elements that reflect Chicago's sister city bond to Paris and celebrate the upcoming 20th anniversary of this friendship pact that unites the City of Paris and the City of Chicago. Paris is one of 28 sister cities connected to Chicago through Chicago Sister Cities International, part of the international Sister Cities program that works to create and strengthen cultural, municipal and economic connections in more than two thousand cities around the world.
New design features at the Chicago French Market start with a 62-foot-long by 11-foot-tall wall mural in the Market's dining area, created by skilled Midwest sketch artist Devin Chhing. An expansive Paris cityscape drawn by hand, the color wall mural is flanked with an original photograph of Buckingham Fountain and Chicago's skyline along with a four-dimensional Parisian street scene complete with authentic address plates from Paris, and a historic storefront façade showcasing antique books from 1900s France, vintage crystal pieces by Baccarat and Lalique, and more.
"When we decided to create a new artwork display at the Chicago French Market, I immediately thought of the sister city connection between Chicago and Paris where my family and I live—also the two cities that I personally admire most in the world. I serve on the board of the Paris Committee of Chicago Sister Cities International, which works to strengthen the 'sister city' bond between Chicago and Paris, and I wanted our new mural to highlight aspects of both cities' skylines together," said Sebastien Bensidoun, co-owner and operator of the Chicago French Market. "Many people aren't familiar with the contributions of the Sister Cities program, and our art at the market is a simple way to make people curious. With 14 of Chicago's 28 sister cities represented at the Chicago French Market by our vendors and their cuisines, plus the growing cultural and ethnic diversity that we see among our customers—we have an opportunity to promote cultural and commercial ties between Chicago, Paris and other cities around the globe, while also supporting local Chicago food producers and entrepreneurs."
In addition to the Parisian- and Chicago-themed art installation, Chicago French Market's refreshed dining area will now also feature authentic French café seating for 150 guests, including Parisian bistro chairs and tables and two communal farm tables that each seat eight guests. Additional seating for up to 150 will be available in the concourse and seasonal outdoor seating. Multi-colored umbrella canopies in blue, white and red will cover select tables and soften the space. Locally made tables constructed of recycled milk jugs, plus newly stained and polished concrete floors will complete the Chicago French Market dining area's new look.
Together with a newly designed public space for people to dine at the market, customers will be greeted at both Chicago French Market entrances by custom marble mosaic rugs. Both rugs feature the Chicago French Market logo with signature red, white and blue market canopies. Printed maps of the market will also be available, including a braille map and personalized tour available to anyone who requires assistance navigating the market space. Plans are also in progress for a permanent, digital map and directory of vendors to be stationed at each entrance.
High-tech amenities will complement the Chicago French Market's new design aesthetic, and include a mobile device charging station in the dining area with locked and secured charging capabilities for up to six devices and six customers simultaneously. An enhanced sound system with outdoor speakers, upgraded, free WiFi for all customers and a new Chicago French Market website at http://www.chicagofrenchmarket.com/ will complete the market's new look and amenities to date.
"The Chicago French Market that opened more than six years ago has grown in depth and character and evolved into the Market that our visitors value today. We noticed that customers have increasingly decided to dine-in or enjoy a drink at the Market—in addition to grab-and-go meals throughout the day—so we added amenities and comforts to the market's public space to respond to this increased use. Interestingly, we now also see a growing trend in Europe towards customers seeking more prepared foods to enjoy in a market's public space," said Bensidoun. "The markets that you'll discover throughout Europe are living and breathing—always changing and evolving as vendors come and go and customers' needs shift. It's the beauty of market shopping—an opportunity to shop for a little bit of this and a little bit of that from a variety of food producers and business owners."
Together with the Chicago French Market development team, the Bensidouns identify and hand-select vendors for their talents and passionate commitment to creating premium food and market goods. Bringing together excellent food producers and entrepreneurs from Chicago neighborhoods and surrounding areas, the Chicago French Market is comprised entirely of food and beverage industry entrepreneurs and start-ups, one of Chicago's most talented florists, family-owned businesses and accomplished food purveyors with multiple locations in Chicago and notoriety around the globe.
In March and during the holiday season of November and December, the Chicago French Market team also operates annual artisan gift markets Marche De Noel and Marche Du Printemps. These markets are set up in the Ogilivie Transportation Center suburban concourse, just outside the concourse entrance of the Chicago French Market, and offer an eclectic mix of art pieces, jewelry, clothing and other gifts made by local and small production craftsmen and women.
The Bensidoun family, market operators in France since the early 1900s and now the largest market operators in Paris, operates and manages the Chicago French Market. The family operates nearly 100 open-air and indoor markets throughout the U.S. and Europe, including eleven Chicagoland outdoor, seasonal weekend markets which started in 1997 and four seasonal markets in New York including one on Broadway in Manhattan.
As with all local markets, the goal at the Chicago French Market is to bring a sense of community found in the markets of Europe, and provide a place to gather, socialize and purchase quality goods.
Chicago French Market Vendors in alphabetical order:

Aloha Poke Company
Beaver's Coffee & Donuts
Bebe's Kosher Deli
Black Dog Gelato
Buen Apetito
City Fresh Market
Da Lobsta
Delightful Pastries
EJ Sushi
FliP Crepes
Frietkoten Belgian Fries & Beer
Fumare Meats and Deli
K-Kitchen
Klay Oven Kitchen
Le Café Du Marche
Les Fleurs
Lillie's Q
Little Greek Corner
Lolli and Pops
Loop Juice
Loop Soup
Outta Da Park Beef N' Dogs
Pastoral Artisan Cheese, Bread & Wine
Polpetti
Presto Café & Grill
RAW
Saigon Sisters
Vanille Patisserie
Vegan Now
Vinegusto
# # #
About Chicago French Market
The Chicago French Market is the City's only year-round, European-style market offering fresh food, produce, flowers and international cuisine from more than 30 local vendors. The Chicago French Market offers grab-and-go dining options for breakfast, lunch and dinner, light snacks, fruits and vegetables, picnics, easy party planning and catering options for home and office; a dining area for customers who wish to explore and relax at the Market; daily Happy Hours with food & drink specials and live music; groceries with fresh ingredients for cooking at home—plus flowers and gifts—all in one convenient location. The Bensidoun family, market operators in France since the early 1900s and now the largest market operators in Paris, operates and manages the Chicago French Market. For more information, visit chicagofrenchmarket.com
About Chicago Sister Cities International
Chicago Sister Cities International (CSCI), a division of World Business Chicago, provides leadership to develop, manage and coordinate comprehensive programs and projects with Chicago's 28 sister cities in the areas of economic development, education, tourism, immigration and cultural enrichment. CSCI expands Chicago's global reach for the benefit of the City of Chicago, its residents and businesses. For more information, visit chicagosistercities.com
Chicago's 28 sister cities include: Accra, Ghana (1989); Amman, Jordan (2004); Athens, Greece (1997); Belgrade, Serbia (2005); Birmingham, United Kingdom (1993); Bogota, Colombia (2009); Busan, Republic of Korea (2007); Casablanca, Morocco (1982); Delhi, India (2001); Durban, South Africa (1997); Galway, Ireland (1997); Gothenburg, Sweden (1987); Hamburg, Germany (1994); Kyiv, Ukraine (1991); Lahore, Pakistan (2007); Lucerne, Switzerland (1998); Mexico City, Mexico (1991); Milan, Italy (1973); Moscow, Russia (1997); Osaka, Japan (1973); Paris, France (1996); Petach Tikva, Israel (1994); Prague, Czech Republic (1990); Shanghai, China (1985); Shenyang, China (1985); Toronto, Canada (1991); Vilnius, Lithuania (1993); and Warsaw, Poland (1960).
For media traveling to Paris and interested in a personal tour of the Bensidoun markets, plus for general media inquiries,
Contact:
Lauren Petersen Edwards - Chicago French Market
773-655-7743
frenchmarketmedia(at)gmail(dot)com