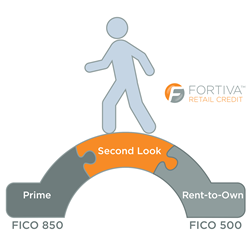 With second look financing in a waterfall structure, retailers have achieved 60% higher take rate, $400 higher ticket and greater repurchase rates.
Atlanta, GA (PRWEB) April 08, 2016
Fortiva, the leader in second look financing, presented at the Furniture Today Finance Symposium on how second look retail credit financing has proven its value and retailers now need to focus on optimizing results.
"It is a proven fact that second look retail credit financing effectively bridges the gap between the customer who has been declined by prime finance providers and the customer who selects a rent-to-own program," said Jeff Howard, CEO Fortiva. "With second look financing in a waterfall structure, retailers have achieved over 60% higher take rate, $400 higher ticket and greater repurchase rates."
Second look financing is offered after a prime lender declines an applicant. Fortiva Retail Credit provides the retailer's less-than-perfect credit customer with a line of credit which has lower customer costs, higher acceptance rates and higher credit lines. By offering higher credit lines, customers have a greater propensity to return to a retailer's store.
Mr. Howard went on to explain, "Success can't be measured through one metric alone. The notion that approval rate is the sole indicator of success is misguided. The success of a second look program is driven by many variables, which, when optimized, creates meaningful incremental profit for the retailer. Fortiva Retail Credit works jointly with retail partners to:
1. Provide a solution specifically aligned with the retailer's strategy
2. Optimize a retail partner's program by balancing Application Rate, Approval Rate, Acceptance Rate, Credit Line, and Discount Rate"
To learn more about Fortiva Retail Credit's financing optimization equation, watch Jeff Howard's presentation here: Fortiva Retail Credit's Jeff Howard on Optimizing the Finance Equation.
Furniture Today's annual Finance Symposium highlighted how the emergence of secondary and tertiary finance options following the Great Recession has created unprecedented opportunities for furniture retailers. Fortiva Retail Credit supported this workshop by providing best practices to help savvy retailers stay ahead of the competition.
Furniture First members, do not miss Joe Ferguson, RVP Sales, speak about Second Look Financing at the Furniture First Symposium, May 17th, Marriott Rivercenter, San Antonio, TX.
About Fortiva Retail Credit
Fortiva Retail Credit is the leading second look finance provider. With 20 years of underwriting experience and having funded over $25 billion in less-than-prime loans, Fortiva leverages instant decisioning capabilities, deep underwriting and a paperless process to provide a best-in-class program for its clients. Fortiva's flexible technology platform allows a loan offer within seconds. Headquartered in Atlanta, GA, Fortiva services clients in a number of markets such as Home Improvement, HVAC, Furniture, Electronics, and Educational Services. Fortiva Retail Credit serves all U.S. markets including Puerto Rico and the U.S. Virgin Islands. Visit Fortiva Retail Credit at https://www.fortivaretailcredit.com.