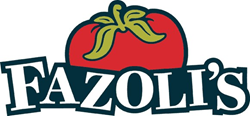 LEXINGTON, KY (PRWEB) April 05, 2016
Spring has sprung with the chirping of birds, the blooming of flowers and freshly chopped Romaine – Fazoli's®, the nation's largest fast casual Italian chain, welcomes Spring with a Saladbration for guests by unveiling four new inSALADas beginning April 4, 2016.
These freshly made-to-order inSALADas are served with hot, fresh, unlimited breadsticks when dining in, and highlight flavors that will delight all palates. Featuring quality ingredients such as premium smoked meats, 100% Romaine, and house-roasted chicken, Fazoli's four new fresh inSALADas include:

o 100% Romaine topped with tender house-roasted chicken, crispy bacon, juicy vine-ripened grape tomatoes, and imported, shaved Parmesan in a velvety, citrus, signature Caesar dressing.

o 100% Romaine topped with generous portions of savory Genoa salami, seasoned capicola, and baked ham, plus Kalamata olives and imported, shaved Parmesan in a white balsamic vinaigrette.

o 100% Romaine topped with house-roasted chicken, Kalamata olives, caprese-style bell peppers, spicy pepperoncini, and crumbled Feta, in a red wine balsamic vinaigrette.

o 100% Romaine topped with tender house-roasted chicken, fresh seasonal strawberries, sliced almonds, feta cheese, and featuring our tangy poppy seed dressing. *
"Spring is about refreshing, renewing and revitalizing, and we're so excited to see how our loyal guests 'get their fresh on' during our first ever Spring Saladbration," said Chief Marketing Officer, Donna Josephson. "Whether it's planting new plants in the garden, or finally getting that new hairstyle, we can't wait to see how our guests are 'getting their fresh on'!"
Throughout the month of April, guests will have the opportunity to share with Fazoli's how they're getting their fresh on by commenting to posts on Instagram and Facebook. By commenting on these posts, guests are entering to win a $500 Visa gift card and a $50 Fazoli's gift card for use toward their pursuit of getting fresh! One winner per week will be selected during the month of April, for a total of four winners. Like" Fazoli's on Facebook and "follow" Fazoli's on Instagram to stay up-to-date on information for Fazoli's Spring Saladbration.
Available April through September.
Fazoli's is proud to offer fast, fresh Italian to guests across the country. Connect with Fazoli's online at http://www.fazolis.com, "follow" @Fazolis on Twitter, "like" us on Facebook, and sign-up to become a Fazoli's eFamily member by visiting fazolis.com/efamily.
About Fazoli's
With approximately 220 restaurants, Fazoli's is America's largest Italian fast casual chain, serving freshly prepared entrées, Primo Submarinos® sandwiches, salads and pizza. One of The New York Post's five breakout fast casual restaurants and a FastCasual.com Brand of the Year, Fazoli's franchisees are experiencing record sales growth. Visit http://www.ownafazolis.com for details on development opportunities, including new operator incentives.
###